The private sector used to be shunned in Vietnam and faced a lot of difficulties in the past, but the situation has been changing greatly in the last few years. The role of the private sector in the economy is being recognized by society as both regulations and practices show. However, there remain some barriers to its growth.
Hidden weakness of private sector

For the first time in history there was a Party Central Committee resolution on the private sector's development. Resolution 10 was passed by the 5th Central Committee in June 2016. Here are some excerpts: "The private sector is an important driving force of overall economic development", "encouraging and creating favourable conditions for the private sector to grow quickly, sustainably … and to make a large contribution in terms of proportion to GDP" and "demolishing all barriers and prejudices to and creating favourable conditions for the development of a healthy and socialist oriented private economy". In Resolution 10, the government targets having 1 million private companies in the country by 2020, increasing to 2 million by 2030.

In 2017 the National Assembly passed the SME Support Law. The government also issued Resolution 19 on improving the business environment and enhancing the nation's competitiveness.

This year Resolution 02 was passed with a series of tasks set for ministries and local authorities to improve the business climate to a level matching that of the top 4 ASEAN countries.
The government should find a way to eliminate the current road blocks and come up with suitable strategies to spur the development of the private sector. The growth of the economy and competition will be mainly driven by the growth of the private sector.
Vietnam has some 700,000 registered companies and 4 million household businesses, 2 million of which are registered. They together contribute around 40 percent of GDP. Around 130,000 new enterprises are established every year. The private sector creates around half a million jobs a year. The growth of the private sector is a barometer of the health of the economy. Yet Vietnam does not have a method to measure the health and growth of the private sector. We hear only about the number of new private enterprises, but do not know about their size, functioning, survival, or growth. These are critical questions.
Moreover, it seems the performance of domestic private companies is overshadowed by the humongous production and exports of global players like Samsung, Intel and Canon in Vietnam. Hence, although we have high expectations for the domestic sector, the results appear modest in comparison. The private sector has never accounted for more than 11 percent of GDP, and the rate is normally 8-9 percent. The contribution of the foreign-invested sector on the other hand rose to 20.7 percent in 2016 from 5 percent a decade earlier.

Most Vietnamese private enterprises are small or micro sized compared to those in other countries. Besides, the average size of registered private companies is decreasing every year.

Weak and facing headwinds
A report by the Ministry of Planning and Investment and World Bank shows that most private companies are small and unregistered. Their small size creates a barrier to effectiveness by not allowing economies of scale, specialisation or innovation.

After 30 years of attracting foreign investment, the links between foreign-owned and domestic enterprises remain tenuous, and the spillover of technology and labor productivity from the former to the latter is limited.
Frankly speaking, Vietnam does not have many large companies, especially in manufacturing. Furthermore, large companies are decreasing as a ratio of the number of domestic private companies. In 2013 only some 3 percent of private enterprises had 100 workers or more, half the 2010 rate. To put this in perspective, 24 percent of state-owned enterprises had 50 workers or more and 52 percent of foreign companies.
The report also said that a million household businesses refused to register as companies because of complications related to administration procedures, legal issues and lack of management skills.

A study by the VCCI found that private companies, asked about their biggest difficulties, said it was hardest to get cheap capital or access to land. They said interest rates were high and raising capital mainly depended on the banking system with other channels like stock markets being limited. Most private companies are unable to make plausible financial plans to get a bank loan. One more issue is that most banks demand collateral for loans whereas the administrative system to issue land use rights is plagued by problems.

Industrial zones are only suitable for large Vietnamese companies and foreign investors. The minimum size of land that can be leased in the zones and the need to pay for land use rights in one shot are the other obstacles for small and medium-sized enterprises (SMEs).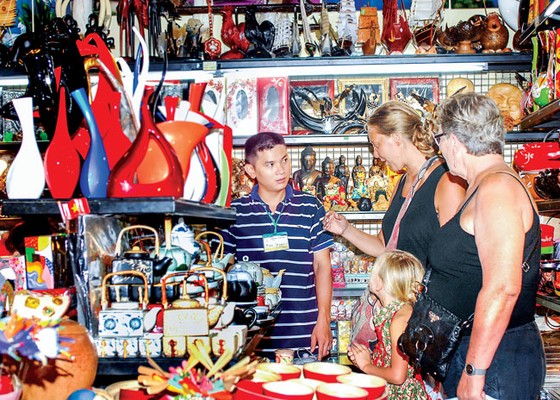 Household businesses in Ben Thanh market (HCMC) refused to register as companies because of complications related to administration procedures, legal issues and lack of management skills.
The process of acquiring and clearing land is tortuous and land prices are too high. The possibility that the government will repossess their land and the complicated administrative formalities also scare off companies.
Though the government enacted the SME Support Law, private companies are still to get any real support. The tax contribution by the domestic private sector is much higher than that of the foreign sector and also growing faster.

In 2016 the former accounted for 37.5 percent of tax payments and the foreign sector for only 19.3 percent. Their tax payments grew respectively at 20.9 percent and 7.5 percent in the 2011-16 period.

Poor management, cut off from global production chain
Many private companies used to be household businesses, and so are not very professional and mainly depend on their owners' personal experience. Few owners are professionally educated or have foreign language skills.

Another study by the VCCI using a quality measurement method created by Nicholas Bloom found Vietnamese companies' managements scoring an average of 2.93 out of 5 compared to 3.13 for the foreign sector. Vietnam enterprises trailed local companies in China and India.

Improving the quality of their management is vital. This is also the solution to improving operational effectiveness, expanding capacity and linking up with the global economy. The private enterprises can then contribute to creating a strong alliance between themselves and get a greater shot at succeeding in the global market.

The other issue facing private enterprises is that most of them cannot link up with foreign enterprises in Vietnam or the global production chain.

Yet another VCCI study found that the ratio of domestic enterprises supplying products or services to foreign companies is low at only around 14 percent. The only good thing is that this ratio is increasing albeit slowly.

It is imperative that foreign-invested companies and their local counterparts become linked. Now the former source only 26.6 percent of their inputs in Vietnam, most of it from other foreign companies. Foreign enterprises in the tech sector tend to source almost everything from their own countries and little from local suppliers.