Strong platform

According to Vinaconex's management and executive board, in 2018, despite many difficulties, the production and business activities of Vinaconex are relatively stable. The Corporation has 4 member companies that have achieved revenue of over VND 1,000 billion (Vinaconex 2, Vinaconex 9, Vinaconex 25 and Vimeco); 5 units have a profit increase of over 50% compared to the year plan (Viwaco 162.2%, Vinaconex Dung Quat 196.3%, Nedi2 151%, P&C 164%, Vinahud 152%). The contructions and projects which are constructed by the Corporation ensure the progress, quality and labor safety and are highly appreciated by investors.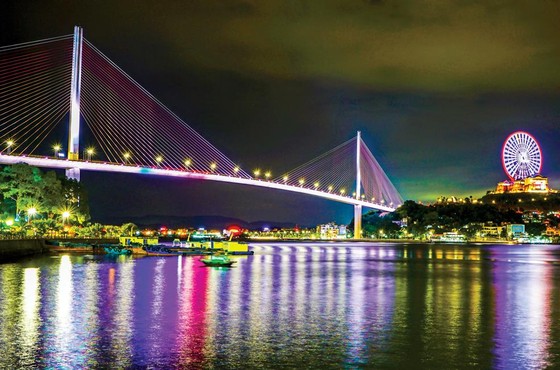 Bai Chay Bridge - a project with the participation of Vinaconex. Photo: Ngoc Chau
In the field of real estate business, Vinaconex recorded a new change from a series of works in 2018, such as revenue and profit from 2B Vinata apartment project, Bohemia apartment project (25 Nguyen Huy Tuong); implementing joint ventures and joint ventures to create cash flow/construction profits, such as the project 97-99 Lang Ha (partnership with Petrowaco); the new urban project Splendora - BT5 An Khanh ...

Besides, in 2018 Vinaconex had completed site clearance at the project of renovating the apartment building at 93 Lang Ha after a long time of difficulties; actively sought investors for Hoa Lac Hi-tech Park project; worked with Hai Phong People's Committee to cancel the decision of Cat Ba Amatina project...

In capital investment, because of good business results from contributed-capital companies in 2018, the Corporation received 323.8 billion VND of dividends, an increase of 69.6 billion VND in comparison with the annual plan and an increase of VND 209.2 billion compared to the implementation in 2017.

In 2019, Vinaconex is expected to arrange capital of about 3,000 to 5,000 billion VND to invest in new and old projects and add more capital for the companies through credit loans and corporate bond issuance.


In 2019, Vinaconex sets a target of VND 3,600 billion in revenue, up 15% compared to 2018; after-tax profit of VND 650 billion, up 10%; dividend rate of 12%. Consolidated revenue of the whole company aims to VND 10,100 billion, up 2%, but profit after tax at VND 743 billion, up 16%.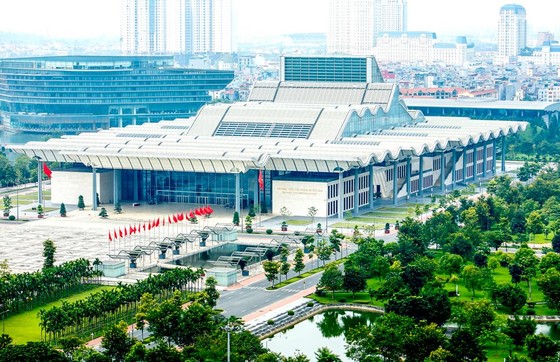 My Dinh National Convention Center - a project with the participation of Vinaconex.
At the general meeting of shareholders held on June 28, one of the important contents will be the changing of the industry, the goal is to ensure the ownership rate of foreign investors in Vinaconex not lower than 49% of charter capital.

What wil the restructuring of Vinaconex be like when state shareholders withdraw all capital? According to Vinaconex leader, besides divesting all the capital in inefficient companies, suspending operations, Vinaconex will establish new companies with suitable business functions.
To top 3 in construction field

Mr. Dao Ngoc Thanh, Chairman of Vinaconex, said Vinaconex aimed to rise to the top 3 of revenue in the construction industry, and this goal was not ambitious because Vinaconex was already in top 4.

"We have partnered with Huynda E&C to advocate a number of stages in the North-South expressway, with revenue of several tens of thousands of VND billion. With twenty thousand people at the current level, Vinaconex can make airports, highways and such big works", Mr. Thanh added.

With the goal of continuing to focus on developing core business of construction and real estate business, Vinaconex CEO Nguyen Xuan Dong said that in 2019, the parent company and the whole corporation would continue to deploy existing investment projects and intensify the search for new projects in potential areas such as Quang Ninh, Quang Nam, Quy Nhon, Nha Trang and Ho Chi Minh City.

In the field of investment, the Corporation will continue to sell and hand over the apartments in Project 2B Vinata, the Bohemia project at 25 Nguyen Huy Tuong and 97-99 Lang Ha, and also deploying after-sales care to ensure prestige, brand, bring high efficiency.

The Corporation will deploying construction investment in high-end apartment project at 93 Lang Ha, Hanoi; speeding up investment attraction in Hoa Lac High-Tech Park; continue to build the urban area Splendora to become a green-clean-beautiful-modern urban area in the west of Hanoi...

In 2018, Vinaconex had signed a contract of VND 3,905 billion. Now, it is negotiating new contracts with great value. Newly signed packages have great value such as Mikazuki Danang project (VND 920 billion); Mapletree Bac Ninh 3 works (VND 253 billion); Binh Duong (VND 760 billion); 21 Le Van Luong project (VND 129 billion); Viettel Quang Ninh building (VND 160.3 billion)... These are projects that have created jobs, revenue - construction profits in the last months of 2018 and 2019.