In 2020, the wood industry aims to export USD 12.5 bn worth of goods, but these impressive figures do not help to ease the anxiety that is presently facing the Vietnamese wood export industry.
Concerns over Vietnamese labelled exports
The five most important wood export markets for Vietnam in 2019 were the US, Japan, China, South Korea and the EU, accounting for 90% of the total turnover of wood exports of the entire industry in Vietnam, and which saw a turnover of around USD 9.3 bn.
The US was the largest of all wood export markets, importing USD 5.1 bn of wood products from Vietnam, up 42% compared to the turnover in 2018. Currently, the turnover from the US accounts for 50% of the total export turnover of Vietnam in all wood markets. The three markets of Japan, China and the EU had a growth rate of about 10-17% compared to 2018. The items of high export value included furniture, wooden chips and planks.
However, when looking at the structure of enterprises exporting wood and wooden products from Vietnam, it is easy to notice that foreign-invested enterprises (FDI), or enterprises working with foreign capital, still account for a large portion of the industry.
According to a recently published report, "Foreign investment in Vietnam's timber industry 2019: Current situation and a policy aspect" by the Vietnam Timber and Forest Products Association (Vifores), in 2019 there were 663 FDI enterprises directly participating in timber exports, up 25% compared to 2018. Also in 2019, the export turnover of FDI enterprises reached USD 4.95 bn, up 25% compared to the export turnover in 2018, accounting for nearly 48% of the total export turnover of the whole wood industry in 2019 (table below).
Notably, along with growth in exports, more FDI capital invested in the wood industry and the proportion of imported raw materials from FDI enterprises also increased significantly. The source of FDI capital in the wood industry is mainly from Asia, in particular China.
Table shows export turnover of FDI enterprises in wood industry in the period 2018-2019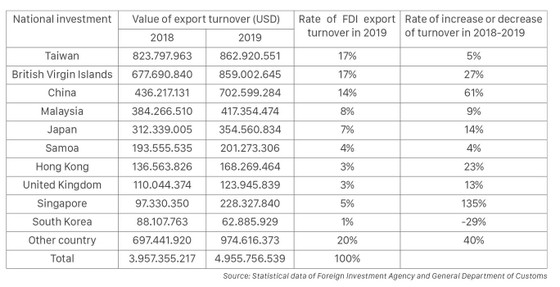 Source: Statistical data of Foreign Investment Agency and General Department of Customs
According to statistics of the Foreign Investment Agency in the Ministry of Planning and Investment, in 2019, the total registered investment capital of FDI enterprises reached USD 6.3 bn, up 13.2% of total registered capital by the end of 2018. Taiwan ranked at number one with 220 enterprises and total registered capital at USD 1,067 bn, accounting for 17% of total registered capital of all FDI enterprises; followed by Hong Kong with 58 projects and 15.2% of investment capital.
Although ranked 5th in terms of total registered investment capital, China has risen to the 2nd position in terms of number of enterprises investing in Vietnam's timber industry. In 2019, there were 56 Chinese-invested wood industry projects, up 2.3 times compared to 2018, with registered capital of USD 203 mn which was up 3.4 times compared to 2018.
Import of wood materials also increased in proportion to FDI capital. In 2019, FDI enterprises imported nearly USD 820 mn of wood material, accounting for 32% of total wood import turnover. China is the leading market on the list of wood products for FDI enterprises operating in Vietnam.
In 2019, FDI enterprises imported wood products from China with import value of more than USD 316.1 mn, accounting for 39% of total import turnover. At the same time, Chinese enterprises also led the FDI group in terms of import turnover with imports worth USD 156 mn, accounting for 19% of total import turnover of FDI enterprises.
The strong growth of FDI enterprises in the wood industry, together with the unusual export-import proportion of these enterprises in recent years, shows that concerns about Vietnam becoming a transit station for FDI enterprises to avoid tariffs in exports is justified. The export figure reached USD 11.2 bn in 2019, a record high in the wood industry so far, largely from contributions of FDI enterprises, which also shows a serious imbalance in the structure of the Vietnamese wood industry today.
Trade risks
Contrary to a strong growth of FDI enterprises, domestic enterprises in the wood industry are quite sluggish. In addition to capital and production line restrictions, Vietnamese wood enterprises cannot control the source of materials, and depend largely on materials imported from outside, mostly from China. Although the country currently has 3 million hectares of forest land, domestic wood enterprises have to import upto 80% of raw wood.
This not only reflects the instability of raw materials, it also shows that the volume of Vietnam's exported wood furniture is not high. In addition, some major markets such as the US and EU require furniture exporters to have FSC certification, a standard certification to declare origins of raw material. This standard is not easy to acquire without proof of planted forests in Vietnam.
Dr. To Xuan Phuc, an expert in forest trends, and the author of reports on the current status of Vietnam's wood industry, said that trade risks in Vietnam's wood exports are more pronounced and importance of key export markets is tightening. The signs of trade fraud are indicated more clearly when some Chinese wood products are imported into Vietnam, then exported to the US with Vietnamese labels. This becomes an excuse for the US and EU to implement sanctions on goods, resulting in even more difficulties for domestic enterprises to export wood products.
The Vietnam Forest Law Enforcement, Governance and Trade Agreement (FLEGT) signed between Vietnam and the EU, will prove to be a barrier for Vietnamese timber exporters to export their goods to this market. Similarly, in the US, the Lacey Act tightens control over the origin of wood products. The US Department of Justice has specified that Vietnamese wood products are mainly imported from Thailand, Laos, Cambodia, and Myanmar. Therefore, when exporting to the US, it is likely that manufacturers, exporters and retailers of furniture will face being fined or banned on suspicions of origin of the products.
Translated by Khoa Anh