JOURNALIST: - In US-China trade war, is China passive in responding?
Dr. PHAM SY THANH, Director of China Economic Research Program, Institute of Economics and Policy Research:

- The trade surplus in Q1/2019 in China turned worse, reached USD 80bn, a decrease of 12.2% YoY. Exports plunged 18.7% YoY while imports went down 13.9% YoY. Since 2009, the bilateral trade between US and China has been 3-3.4% of US GDP. This number fell to 2.51% in Q1/2019, the lowest since 2006.
Trade war is an excuse for US to scale down the growth of China's technology.
Dr. Pham Sy Thanh
Foreign reserves of China have also been badly impacted by this trade war. In 2018, the trade surplus of China reached USD 351.7bn, a USD 70bn drop compared to 2017. The changes in current account have been impacting the changes in capital account. China may have to scarify its foreign reserves to stabilize its currency value. China has been investing heavily in other countries for Belt and Road Initiative, BRI project, which is a global development strategy of China.
This long lasting trade war will impact China's foreign reserves which will consequently impact the market expectation on which the China government targets to keep stable. China's gold reserves fell to 62mn ounces, equivalent to USD 78bn, a very low figure. The US government bond sales look like China's suicide.
- Is US also badly impacted by this trade war?

NGUYEN ANH DUONG, Head of General Research Department, Central Institute for Economic Management:

Although we do not see any direct impact of this trade war on our economy, the US-China trade war has been creating a volatile environment which needs to be closely watched.
Mr. Nguyen Anh Duong
- The difference in economic policies of China and US prove that China is more negatively impacted by the trade war in comparison to US.
US tends to control its hot economic growth. FED has been continuously increasing interest rate in 2018, although the speed is slower recently.
Reversely, China has been easing its monetary policy, reducing its required reserve ratio five times over the last two years. In regards to fiscal policy, China cut down its regulated tax, and invested more in infrastructure projects to support economic growth in 2018 and Q1/2019.

However, in my opinion, we should not look down the responses and policies of China. Different to US where the policies must be approved and publicly announced before applying, China can respond quickly and suddenly. Hence, its response will be more surprising and have bigger impact.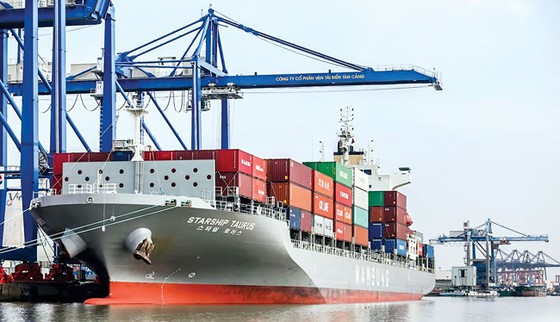 Vietnam has a lot of experience in dealing with global financial crisis. (Illustrative photo: VIET CHUNG)
This trade war will not benefit either side. However, in the next negotiating round, the side which is more patient, has cooler mind, more understanding of its rival will be the short-term beneficiary. China is able to immediately apply penalties on US goods, but it is delaying until 1 June 2019, meaning the chance is still there.
The issue is whether US sees the next meeting as an opportunity? If the two sides can reach an agreement, there may not be new tax application. If US and China cannot negotiate and come to a solution then global imports, exports and prices will be impacted.

- What is US planning with this trade war?

PHAM SY THANH: - Practically speaking, US wants to slow the growth of Chinese technology companies. China based companies usually see US as their best potential market to export their Applied Technology Products (ATP). The trade war has been slowing down exports of these enterprises.

If US cuts down its aviation ATP exports, it will not only influence Boeing business, but also commercial airplane manufacturing activities of China. Aviation ATP currently contributes 47% of total US ATP exports to China, equivalent to USD 18.3bn.
China's telecommunication equipment and computer mainboards will be mostly impacted by US tax regime. These products are currently about USD 157.1bn, and constitute 90% of total China's ATP exports to US and 29% total exports to US. In Q1/2019, ATP exports went down 36.2% YoY, presenting accelerating impact of trade war on ATP export activities.

US aims to cut down China's supply chain in manufacturing chips, semiconductor products. This value chain includes four stages, design, manufacturing, assembly and packaging. Many Chinese companies are currently involved in different parts of this supply chain. US government is also trying to prohibit Chinese enterprises to approach US technology from China based companies of US.

In August 2018, US President Donald Trump signed the National Defense Authority Act (NDDA) for the fiscal year of 2019. The Act prohibits the federal government from purchasing and renewing contracts with any institutions which use telecommunication equipment, systems or services of two Chinese companies, ZTE and Huawei.

- What scenario does Vietnam have to prepare to cope with this US-China trade war?

NGUYEN ANH DUONG: - Vietnam has already taken into account the scenario that both US and China will increase their taxes. However, as an export economy, we do not expect this scenario to happen as these two countries are our biggest parties.
We have to prepare our next steps to cope with the escalation of the trade war, such as monetary policies and fiscal policies. What Vietnam can do is be well prepared. We cannot take action earlier as we are a small economy and we do not know what scenario will happen and how the world economy will react if these two parties keep up their tough responses.

In my opinion, Vietnam should be cautious in setting policies and maintaining both monetary and fiscal policies. It should be well prepared for a worst case scenario.
Both our monetary policies and fiscal policies were much better in 2018 compared to previous 10 years when Vietnam had been impacted strongly by the global crisis. This shows that Vietnam's government is more experienced in responding to global problems. This is the base for our belief that the US-China trade war impact on Vietnam's economy will be minimal.

However, Vietnam should prepare three solutions:
Firstly, it should stay continuously updated on progress of US-China trade war, and the interaction of these two countries with the remaining world countries. Japan and EU have their own solutions to cope with this trade war and it will impact Vietnam. Hence, its response and preparedness must be detailed and flexible.

Secondly, it should prepare a media solution. Market sentiment, especially sentiment of financial market will be strongly impacted. The investors usually respond strongly to trade wars, hence, the government should have policies to stabilize market confidence.
Lastly, the government should review what tools it has, such as foreign reserves, foreign exchange, management ability or ability to collaborate many policies. For example, can government use its budget to support the economic sector which will be sensitively impacted by the trade war?

We do not want the trade war, but we have to take it as an opportunity to review our growth strategy which is currently linked to foreign direct investment. We should attract and focus on the most suitable investors. This is also an opportunity for Vietnamese enterprises to strongly participate in the regional and global value chains.
The key issue is whether we can replace Chinese companies to be part of the global chain. Can we take it as an opportunity to build trust with foreign investors and become more competitive?