Difficult roadmap
Like other creative city models across the world, Thu Duc City will also be a center for innovation and high technology, and will be the driving force for economic development in Ho Chi Minh City. It is expected to also contribute substantially towards the GDP of the country.
According to the original concept, three districts of Ho Chi Minh City will merge to become one administrative unit which will include 36 wards. This will cover a vast area of 212 square kilometers, thirty times bigger than district 1, 53 times more than district 4, and 43 times larger than district 3. It is only smaller than the combine of the three districts of Cu Chi, Binh Chanh, and Can Gio. The Creative City will have a large population of 1.1 million people, and compared to other creative cities in the world, it will be one of the most populous cities of this kind.
However, to realize this dream concept, a huge amount of investment resources is required, going into the hundreds and thousands of billion dollars. Ho Chi Minh City will need to look for the right foreign investors, which will not be an easy task. Normally, if a host city or country cannot invest 100% of the initial capital, it must have at least some basic capital to complete technical infrastructure and services to attract more and more investors, and Ho Chi Minh City is currently very short of investment capital to make such a commitment. Another factor is that it will be quite difficult to fill a vast land area of 212 square kilometers with 1.1 million inhabitants who all will want to use high tech facilities, and live their daily lives based of such creative functions.
Nucleus of creative city
Within the next five to ten years, Ho Chi Minh City will focus on developing the nucleus center of Thu Duc Creative City. This will be the core of the entire project that will decide its most important components to develop and implement in the Creative City concept. Hence the core nucleus of Thu Duc Creative City must be well defined. Recently, many citizens along with government officials viewed a map of Thu Duc Creative City online, which was part of a contest submitted to the government. This was the first prize winning entry by Sasaki-Encity for "Concept of Creative Urban Planning in the East."
Among the centers under consideration were the Rach Chiec Sports and Health Center with 220ha area, which includes stadiums, yards and gymnasiums. The 500ha Truong Tho Port Urban Area with an administrative trade and service center also looked feasible. Another was the Thu Thiem Financial Center which is 770ha wide, but up to now no works have been completed here by the Dai Quang Minh Group. The Thu Thiem area merger into Thu Duc Creative City has not received much approval, and so far merging it with District 1 sounds more reasonable. The ecological technology center in District 9 is still in its infancy stage and far too small with an area of only 25ha, and it is possible it will be included in the national university campus later.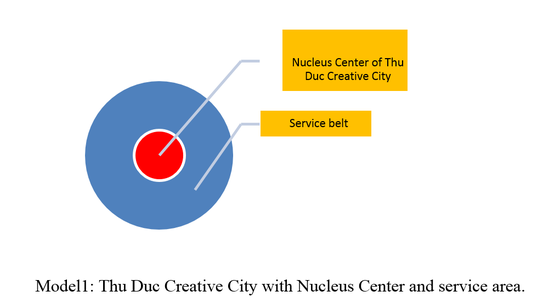 Mô tả ảnh
The most likely selection of a nucleus center then narrows down to the National University of Ho Chi Minh City (VNU) and the High-Tech Park. According to the principle of developing from the nucleus and then growing outward, the development of the nucleus center of Thu Duc Creative City must be top priority. Of late, creative cities in the world have begun to compact to smaller areas such as in Dubai, and Artificial Intelligence and Information Technology allows this adjustment very easily.
Comments
Thu Duc will be a creative city after developing and upgrading existing residential areas in three districts. In the next five years, Ho Chi Minh City will focus on developing the nucleus center of Thu Duc Creative City and this will be at the National University of Ho Chi Minh City which has an area of 643ha, and an 800ha High-Tech Park. However, to create a nucleus center, several factors need consideration. Looking at diagrams 1 and 2, we see that Thu Duc Creative City corresponds more to diagram 2.
First, it is important to seamlessly connect the space between the National University and the the High-Tech Park. Currently they are divided by the Hanoi highway and an overhead flyover. The space is about 28ha, and the most feasible access would be via an underground tunnel connecting the two areas, with one side for research and training, and the other side for manufacturing, testing and the commercialization of products. The area on the ground can be turned into a green park.
Second, it is still under negotiation how to return three-quarters of VNU land to Ho Chi Minh City. The National University has an area of about 650ha, but only 120ha belongs to Ho Chi Minh City, while the rest of the 430ha belongs to Di An district which comes under Binh Duong province. If VNU is a public non-business unit managed by the Ministry of Education and Training, there is nothing to resolve, but for the development of a new Thu Duc Creative City, all territorial boundaries must be clearly defined.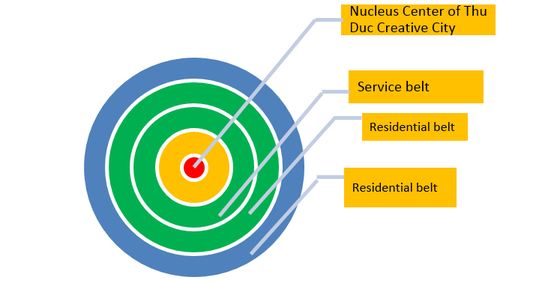 Model 2: Thu Duc Creative City will have access to multiple facilities.
Third, it is necessary to make this innovative urban area very vital. Currently, VNU has about 70,000 students, including teachers, and 40,000 people working in hi-tech zones. Both VNU and the High Tech Park are fully active during the day, but fall quiet at night. Therefore, more investment is needed to expand towards an urban development area with residential accommodations, related services and essential facilities. Thus, VNU must lease space to build residential areas for families of scientists, and foreign experts and visitors. There will also be need to develop services such as hospitals, kindergartens, primary schools, entertainment areas, commercial centers, sports and beauty care areas.

Developing a nucleus center for Thu Duc Creative City is essential, but it must be developed sustainably, and will require careful consideration, otherwise it will lead to land speculation, and cause unnecessary turmoil in people's minds.