A CIEM research study on the new methods to supervise SOEs found many constraints and limitations in its management.

Supervision is regular and ongoing task
Practically speaking, owner agencies are responsible for supervising SOEs by setting targets and objectives for enterprises. The owner agencies then have to monitor, check, test, and evaluate the results. The owner agencies are also responsible for reporting all supervisory results of enterprises to the National Assembly and the Government.

Report of 2018 National Assembly says, "the ineffectiveness of supervision, inspection of owner agencies and internal audit agencies is one of the reasons for fraudulent practices in public capital usage and management of SOEs".
According to the Organization for Economic Cooperation and Development (OECD), supervision is a regular and ongoing task of owner agencies, amounting to daily monitoring.
From 2011-2016 the proportion of SOE losses incurred have not reduced. The 2016 consolidation report of 23/91 SOEs revealed the accumulated loss of VND 17,000bn. The non-core investment of SOEs was up to many thousand billion dong, and was unable to be collected. The fair value of many projects has been under their investment capital.

Why SOEs do not operate effectively?
The first reason is due to the legal system. We have many regulations to govern owner agencies, their authority, and supervisory subjects like enterprises. But these regulations lack consistency in terms of definition, determination and scope of owner agencies activities. There remains an overlap between the supervising activities of owner agencies and the controlling and investigating tasks of other government agencies.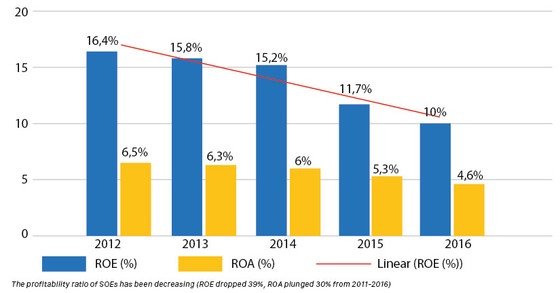 Furthermore, we do not have a legal document to explain clearly and guide specifically on the methods and tools to implement supervision of owner agencies. This causes confusion during implementation.
For example, PVN, Petro Vietnam Corporation, is under supervision of many ministries. The Ministry of Industry and Trade is responsible for coordinating regularly to supervise and inspect. The Ministry of Finance has to coordinate to inspect and supervise financial activities and results. The Ministry of Home Affairs has to coordinate to supervise and inspect the observance of cadre works.
The Ministry of Labour, War invalids and Social Affairs has to coordinate to supervise and monitor annually and inspect the implementation of recruitments, salaries, and bonuses. The Ministry of Planning and Investment is responsible to coordinate, supervise and inspect the implementation of targets, objectives, plans, and strategies.

This legal document looks very rigid, but the truth is no ministry is authorized to monitor or supervise the enterprises solely, completely and effectively.

The consequence of this is we lack consistency in supervision activities of owner agencies. The monitoring tasks are split into many parts based on the function of the respective ministries. The responsibility of "coordination" in supervision is not clear, especially as it lacks accountability in reporting the supervisory results of each ministry. This causes the supervision activities to be irregular and disrupted.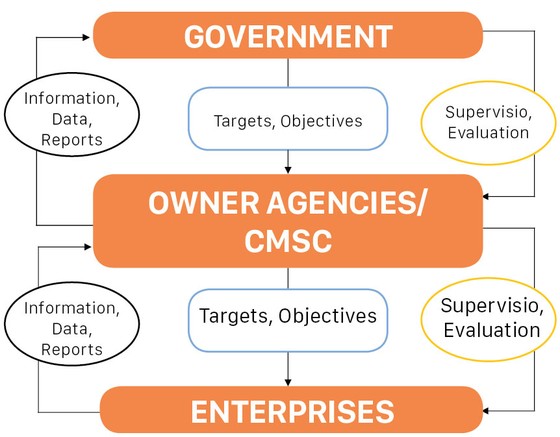 Who is supervisor of owner agencies?

The second reason is information transparency. We lack complete and accurate information about government assets in the enterprises, especially information of enterprises that have complex ownership structure.
It is not easy to answer the question of how much government capital is in the enterprises and what is the fair value. We are not sure whether we have the data on SOEs at each owner agency base (Ministries and Local People's Committees). We also do not know the reports that SOEs submit to their owner agencies and what they are used for. Are these reports and data used for supporting supervision and evaluation of owner agencies? We do not know that too.

Observing the supervision mechanism of owner agencies, we found that the supervision is not done regularly and is only done periodically, such as bi-annually or annually.

We have to admit that the owner agencies do not have enough information and resources to directly monitor the enterprises. Hence, the owner agencies cannot know the real status of the enterprises in the period between reporting. Especially as the owner agencies do not acknowledge the progress of approved projects. This causes a bad impact on the management and forecast capability of owner agencies.

There are questions on who is the supervisor of owner agencies and how it could be done? An owner agency is responsible for managing many thousand billion dongs but we don't know the mechanism to evaluate and determine the responsibility and effectiveness of this agency (Ministries and Local People's Committees).

It could consequently demotivate the ministries and local authorities to spend more effort in managing government's capital better and more effectively. It's hard to determine the responsibility of owner agencies in determining enterprises losses and ineffective projects.

Apply technology in supervision
Information is the key in management, and which defines the effectiveness of the supervising activities. Hence, it's necessary to have an information system to gather SOEs' data consistently and completely. We should apply high technology to collect information and data regularly and ensure confidentiality of the data and reports.

We should build a "big data bank" to construct a mechanism for supervision of owner agencies. The information and data should be the key foundation for the owner agencies to manage and control the SOEs, as well as the base for owner agencies to make management decisions more quickly and effectively.

The CMSC, or owner agencies, should apply international practices in managing SOEs, and proactively build standards for evaluation of SOEs. It should do serious and extensive research on the capability of SOEs, make comparisons between enterprises in the same industries or sectors to set suitable objectives.

There should be a clear mechanism for supervising owner agencies. The Ministry of Finance should be the key agency to support government in supervising the rights and obligations of CMSC and other owner agencies.

To succeed in this process, the government should create a set of indicators to evaluate and measure mid-term and long-term results of: financial efficiency, social impact, investment effectiveness, restructuring progress, prudency of decision-making by owner agencies, and transparency of information in enterprises and owner agencies.