Obvious benefits
Mobile money allows people to transfer funds to their accounts without physical banking requirements and can even transfer money from one account to another or shop for various goods. Already, about 90 countries in the world have developed this platform for individual monetary transactions.
The number of people using this service are now about 90mn, equivalent to one seventh of the world population. The daily trading value through mobile money is about USD 1.3bn, with an average growth of 20% per year. In some countries, the ratio of people using this service is more than 50%.
The benefits of this service are huge, especially for the development of a safer non-cash system. However, it needs a legal framework to resolve any upcoming related risks.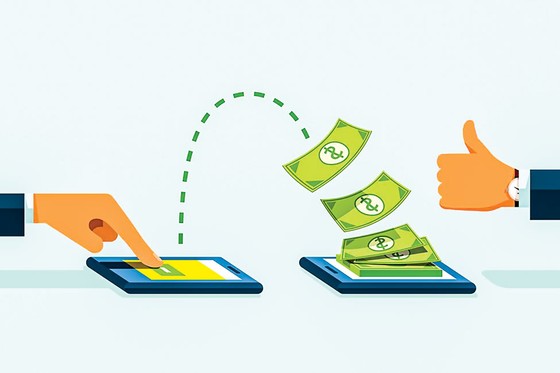 Illustrative photo.
Pham Tien Dung, Head of Payment System Department in State Bank, said that one of the difficulties in setting up this system in Vietnam is the lack of a detailed legal framework for this service to operate smoothly. Currently, there is no law which defines a non-cash payment system. Both mobile money facility itself as well as the service providers are not regulated under any prevailing regulations.

The only thing that is closest to mobile money is e-wallet, which allows people to hold money in their wallets with protected money value. The e-wallet money amount is equal to the amount that people put into their bank account.
The similarity between mobile money and e-wallet is the use of an identification account. However, in e-wallet the identifiers are banks, while in mobile money the identifiers are telecommunication companies. The challenge for telecommunication companies is how to identify the client correctly in the same ways as banks do, to avoid any fraudulent transactions.
According to Mr. Dung, if we consider mobile money an e-account which is identified through mobile devices, the telecommunication companies must have the technology to store all data of clients, as losing mobile devices means losing everything.
Furthermore, the cash amount should be transferred in ratio 1:1 to the amount in mobile money account. For example, VND100 on a scratch card should be VND100 in the mobile money account. Currently, VND90 on a scratch card is transferred as VND100 in mobile money account.
Lack of legal framework
So far, all telecommunication companies, including Viettel, VNPT, VinaPhone and MobiFone, have officially proposed to the government to allow them to offer mobile money services. However, it is a big challenge to find a common voice within all telecommunication companies, the State Bank and the Ministry of Information and Communications.
The mechanism to supervise, control, monitor and protect the rights and confidentiality of clients for a new service like mobile money is not easy to build quickly, as mobile money will be a type of legal currency of the country used domestically.
"If Vietnam is allowed to use mobile money in 2019, it will be the 91st country putting this service to use. Although we are behind the world in introducing this service, we still have a chance to learn from them", said Mr. Nguyen Manh Hung, Minister of Information and Communications.
We talk much about e-commerce, startups, creations and innovations, but we forget an important thing, that is the settlement platform. To make a service popular to 100 people, we need to bring a settlement system to those 100 people first.
There is no other tool to do above task better than mobile money. In Vietnam, the ratio of people using credit cards is quite low, but the ratio of people using mobile phones is more than 100%.
Currently, many people in rural and highland areas do not have access to banking services, hence, mobile money will help in bringing them closer to modern services such as healthcare, education, finance, and jobs via the internet platform.
With a nationwide network of telecommunication companies, mobile money can easily be expected to connect with people in rural and highland areas. The application of mobile money will also help in creating and developing several digital and technology startups.
"Small money value transactions via mobile money will be a good way to train people in using banking services. Hence, banks should not worry about the popularity of mobile money", said Mr. Nguyen Manh Hung.
According to Minister Nguyen Manh Hung, mobile money will be a solution to develop the non-cash settlement system. Technology will help resolve many domestic problems in the country, but this means we have to change attitude, and be willing to embrace new and modern global models for daily functioning.