Scrap metal

The Dung Quat shipbuilding yard was constructed by the Dung Quat Shipbuilding Industry Company (DQS) with approval of Vinashin at total investment capital of VND 6,198bn. In 2010, after the restructuring of Vinashin, the project and DQS were transferred to Petro Vietnam (PVN).

So far, the total disbursed amount is at VND 4,292bn, equivalent to 69.25% of total investment capital, and two phases of the project are still not complete. According to Conclusion 308 of investigators of Ministry of Construction and Conclusion 5155 of investigators of Ministry of Industry and Trade, the construction process has been facing losses of many thousands of billion dongs.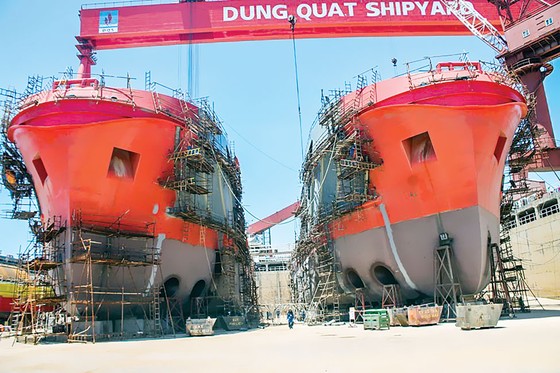 DQS' target of constructing 1.1mn ton per year had been shattered.
The project No.2 to construct a dry-dock yard, which is phase 2 of the project, had total investment capital of VND 619bn. DQS has settled VND 214.5bn to the constructor. The construction is now on hold due to poor conditions at the ship building industry and financial difficulties of DQS.

Since 2007, DQS only completed constructing two oil tankers with capacity for about 100,000 ton per tanker. Currently DQS does not have any clients. The target to construct 1.1mn ton per year is on hold and PVN and DQS have to stop constructing the dry-dock yard in project No.2.

Similarly, construction of 7000T shaft gate by Quang Trung Mechanic at cost of VND 360bn has been suspended. DQS has been requiring Quang Trung to list the completed items to settle the contract. DQS already made the advance payment of VND 162bn to Quang Trung but this company still asks DQS to compensate more for contract termination.

The reason for contract termination is that DQS now does not need the 700T shaft gate as it only supplies maintenance and repair services.

The dispute between Quang Trung Mechanic and DQS also relates to the construction of 450T shaft gate, which was also appointed to Quang Trung in 2007 by Vinashin. DQS already paid Quang Trung about VND 157.6bn, equivalent to 80% of the task value. However, Quang Trung has not been transferring the 450T shaft gate to DQS even though the deadline of transferring was over ninety months back. Quang Trung explained the reason of the delay was the dispute related to two construction phases that has not yet been resolved.

The other item which created losses for DQS is the wharf project which was constructed to support DQS to import materials. The total investment for this was VND 124bn and DQS already paid VND 33.8bn to the constructor. This wharf was destroyed by a storm in 2009 when it was still under construction. Constech was unable to complete this task. Furthermore, if DQS does not have clients, constructing this wharf is not necessary.


Unreasonable loss in EPC contract

In November 2005, Vinashin and YMC-Transtech signed an EPC contract to construct the ship building plant, warehouses, inner roads, and construction yard for DQS with total investment capital of USD 99.8bn. Notably, this EPC contract included many unreasonable terms related to tax which required Vinashin to pay a million US dollar compensation to YMC-Transtech.

Accordingly, Vinashin paid YMC-Transtech the difference after changes in CNY/VND exchange rate of over 5%. YMC-Transtech is responsible for all tax and fee amount which arises related to EPC contract.

12 years later, in September 2017, YMC-Transtech sent a letter to Ship Building Industry Corporation (SBIC, the later name of Vinashin) to ask for a settlement of USD 16.3mn difference in CNY/VND ratio during period of construction.

According to calculation by DQS, the amount that YMC-Transtech has to pay for tax and fee arising from this EPC contract is USD 5.9mn. The amount is calculated upto August 2017.

Previously, in December 2016, after recognizing these unreasonable terms in EPC contract, Vinashin had to ask YMC-Transtech to sign an additional memo to revise the EPC contract terms. Based on this memo, YMC-Transtech is only responsible for the tax and fee amount upto USD 500,000. The remaining amount to be paid by Vinashin. To offset, Vinashin will not have to pay the currency exchange difference.

Accordingly, Vinashin has to pay USD 5.4mn of tax and fee and another USD 3.98mn to YMC-Transtech, with total amount at USD 9.4mn. Vice versa, YMC-Transtech will not ask Vinashin to pay USD 16.3mn for currency exchange difference.

The Conclusion 5155 of investigators of Ministry of Industry and Trade mentioned that the way that Vinashin negotiated to pay tax for YMC-Transtech in the memo is illegal, and caused losses for Vinashin.

In fact, if Vinashin continues to follow the terms in the memo that was signed to revise the EPC contract, it will be hard to collect USD 9.4mn that Vinashin has already paid YMC-Transtech. If Vinashin follows the EPC contract, the compensation that Vinashin has to pay will amount to USD 16.3mn.

Millions of US dollars were paid for unreasonable items in the EPC contract. DQS and Vinashin are gradually forgetting their dream of a ship building plant.
VND 1,360bn was invested in 4 construction projects to realize the dream of a modern ship building industry. However, it now resembles a scrap metal yard. The losses have not stopped at VND 567bn which were paid to the constructors, but many billion dongs will go as compensation for contract termination.