Misappropriation of assets

The Economic Crime Investigation Unit at the Da Lat City Police Department said that they had temporarily retained Nguyen Van Cong (born 1987, resident of Nguyen Cong Tru Street, Ward 2, Bao Loc City) to investigate a scam of assets misappropriation amounting to VND 26 billion. Cong was arrested for using fake land rights certificate to swindle Mrs. C.K.P (resident of Thu Duc District, Ho Chi Minh City) of her property.

Nguyen Van Cong confessed that he had contacted Mr. D.H.A to buy a 5,700 sq.m land plot from him. After gathering all information about the plot of land, Cong hired a person to make a fake land rights certificate of that plot. The certificate showed him as an authorized owner. Cong later contacted Mr. D.T.L to sell the land plot. After checking all information on the land rights certificate, which was in Cong's name, and the City plan, Mr. D.T.L agreed to buy the land for a price of VND 30 billion. Mr. D.T.L also made the advance payment of VND 300 million.

Later, Mr. D.T.L realized that he didn't have enough money to individually buy the plot of land so he introduced Mrs. C.K.P to Cong. Mrs. C.K.P agreed to buy at the same price of VND 30 billion if Cong agreed to transfer 5,000 sq. m to construction land, to which Cong agreed.

On 11 March 2019, Cong received an advance payment of VND 1 billion from Mrs. C.K.P. Cong then contacted the same person who had made the fake land rights certificate for him earlier, and asked him to make another new fake document that would include permitting of new construction land terms.

On 19 April 2019, all parties went to Do Huu Sam notarization office (Ha Giang Street, Ward 1, Bao Loc City) to complete the final sales agreement.

After the sales contract was signed by both parties, Mrs. C.K.P settled another VND 25 billion (accumulated settlement amount was VND 26 billion). The remaining VND 4 billion was agreed to be paid after Cong had completed land clearance and border construction formalities.

On 26 April, Mr. D.K.L went to Da Lat City People's Committee office to complete the remaining documents to transfer ownership to Mrs. C.K.P. While in this office, authorities were able to discover that the land rights certificate was a fake.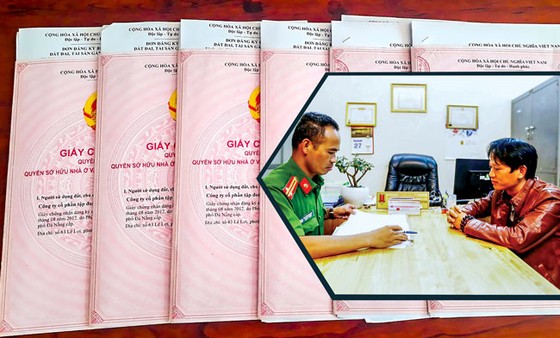 Picture: Nguyen Van Cong at investigation office.

Hard to detect

According to data, over the last three years there have been 300 cases of fake land rights certificates under investigation in Ho Chi Minh City. Lawyer Nguyen Duc Luong said, these certificates were very sophisticated, and could easily pass undetected through the notarization office. The contents of fake land rights certificates were exactly the same as the originals. However, they could certainly be identified as fake at the Local People's Committee office.

These fake certificates are often initiated by people who work at government issuance offices, from where they can take the original papers, information and other resources and then print good quality counterfeit land rights certificates. Hence, these sophisticated fake certificates are very hard to detect.

In some other cases, the notaries were also the criminals, who cooperated with some partners to make these certificates, or even with traders and parties involved in sales contracts.

Moreover, some land buyers, after signing sales contracts at the notarization office, tend to hire service providers to go to the Local People's Committee office to complete the final documentation papers authorizing ownership of a property, without realizing that that these service providers are complete fraudsters and all the documents they hand back to them are fake and illegal.

According to Lawyer Thai Van Chung, CEO of Nguyen Giap Law Firm, the number of criminals involved in making fake documents, especially fake land rights certificates are increasing more and more. The operations are becoming more sophisticated, and more well-organized with high-tech application. The devious intention of faking documents is to appropriate others' property and assets, including from established banks.

Legal loopholes at notarization offices

The 2014 Notarization Law governs that the job of a notary is to certify agreement documentations based on their accuracy, legal status, and clear of any malpractices. People who use the notary certification service are prohibited from supplying incorrect information, illegal and fake documents, and are responsible for submitting all necessary information and documents after checking their accuracy and legality.

Based on this regulation, the sellers, who use fake land rights certificates, will be responsible for the accuracy and legality of these certificates, while the notaries have no responsibility. If the ID identification is counterfeit or inaccurate, the notaries are held responsible.

Clause 1, Article 38 of the 2014 Notarization Law regulates the compensation for the mistakes of notarization office: the notarization office has to compensate to the related people for their errors.

However, in practice, the responsibility of notarization offices in cases of fake ID, counterfeit resident book or fake land rights certificates is not clear. The notary only has to take legal responsibility if he already knows the documents are fake but has to keep doing the notary task.

Hence, we need a more foolproof mechanism to support the notarization offices as well as the notaries in identifying fraudulent cases. The government should share the information and data about residents, which is under control of the Ministry of Public Security, with the notarization offices to cross-check before making certification for land sales contracts. The government should define clearly the compensation and responsibility of the notaries, types of punishment and penalty applied to notaries who lack necessary responsibility in their task, causing significant damage to individuals and institutions.