Many BT projects have been delayed over the last year and if we do not resolve this issue urgently, the economic growth for this year will be impacted.

Many big projects on hold
Currently, use of public assets to settle BT projects is regulated under many different laws and regulations, hence creating a separate Decree to tackle this issue immediately and stringently will not be easy.
Bidding of BT projects or auction of right to use land to compensate BT constructors is expected to reduce government losses in BT implementation. However, it will not be effective if the regulations do not protect both parties, the government and private investors.
We had the regulation on BT projects 10 years ago, such as Decree 108/2009 on BOT (Build-Operation-Transfer), BTO (Build-Transfer-Operation) and BT (Build-Transfer) investments.
The government has been improving on the legal framework continuously; and it also issued Decree 63/2018 on investments under PPP model in 2018. However, so far, recurring losses from BT projects have not been resolved.

In March 2018, the Ministry of Finance required other ministries and sectors to suspend all BT projects, and wait for a separate Decree on these types of projects. It has been over a year from that time, but the Ministry of Finance has not yet come up with a Decree.
In Ho Chi Minh City, two super big BT projects with many thousand billion dong of capital have not yet been implemented.

The first project is Binh Quoi-Thanh Da residence with total area of 426ha that will accommodate 41,000-50,000 residents. The investment capital for this is estimated at VND 29,900bn (USD 1.3bn) and the project is expected to complete by 2032.

The second project is a 63km highway adjacent to Sai Gon River, in which 9.5km is for 4-car-lanes and the other 54km is for 6-car-lanes. The project is being undertaken by the Tuan Chau Group with total investment capital of VND 63,500bn. The compensation for this highway construction is proposed to be a land bank of 12,400 ha.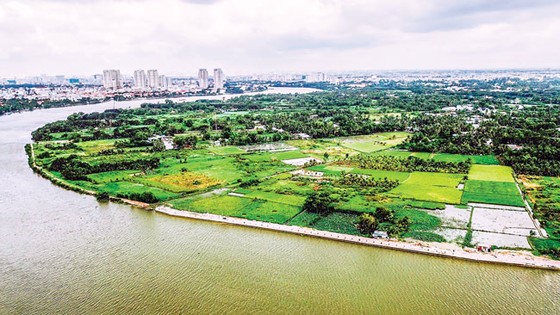 Binh Quoi-Thanh Da residence project has been on a halt for over 20 years. The project shall be difficult to complete if there no BT contract, but it won't be attractive for investor to join if BT is transparentized.
In Ha Noi, about 22 BT projects, proposed since 2017, have been suspended. Some of these include the 2.5 ring road with investment capital of VND 4,681bn; the 3.5 ring road with investment capital of VND 2,549bn; the 4 ring road with investment capital of VND 35,990bn; Ba Ha-Xuan Mai project with investment capital of VND 6,300bn; projects along Hong river and Duong river with investment capital of VND 38,000bn.
To implement these thousand billion dong projects, Ha Noi plans to take thousand ha of land in Tay Ho, Cau Giay, Bac Tu Liem, Ha Dong, Long Bien, Dan Phuong, Gia Lam, Hoai Duc and Dong Anh to compensate the constructors.

Because of this reason, Ha Noi is not being able to kick off the other 3 BT projects to build roads between Tran Hung Dao-Thuong Dinh, Ha Noi-Hoang Mai, and Van Cao-Hoa Lac. Total investment capital for these 3 projects is VND 137,558bn, in which VND 95,928bn is funding by private investment, while the remaining amount is from the City budget.

Ensure benefit for both government and investors
The Ministry of Finance is preparing a Decree based on market mechanism to ensure transparency and encourage all economic sectors to join in BT projects.

Accordingly, investors will disburse their money to construct the infrastructure projects first, and then the government will later complete land clearance formalities and sell land to get money and pay the constructors.

This method is expected to help resolve difference between land value and project value. This is our current weakness, when we take land to compensate constructors directly.

The principle here is to enforce the equivalence between the project value and the land value. However, if it is successful, is the BT project still attractive?

According to a BT project constructor in Ha Noi, the private enterprises are not willing to put their own money to build the BT projects; they do not want to wait for the land sales and settlement from government. If the government applies this method, the private constructors will choose other projects which apply the bidding mechanism but are constructed with public budget.

Over the last few years, we have observed the land area that was used to compensate for BT projects has rocketed several times in value after the BT projects completed. However, this is the key point of BT projects to attract private investors.

This problem was caused by two reasons. Firstly, the authorities have not determined the land value accurately. Secondly, the market value of land has increased too quickly thanks to completion of infrastructure projects which are adjacent to the land area.

On one hand, using the auction of rights to use land will help to remove the difference between land price and land value. On the other hand, the BT projects are still linked to compensation of land which helps to retain an attractive draw for the projects.

We understand that there is no perfect investment solution, and BT projects are no exception. The BT model helps to reduce the burden on budget but also creates many problems when the land value is not determined accurately.

The authorities find it hard to calculate accurately the future value of the land as this value is dependent on private investors' business plans.

The government should consider the benefit of both parties in BT implementation. This is the only way to attract private investors to BT projects and fulfill government objectives to socialize infrastructure construction.