Over subscribe

Phat Dat Real Estate company (PDR) announced its success in issuing VND 200bn of nonconvertible secured bonds, at 14.45%/year, on 3-month interest payment. The collateral asset is 18mn shares of PDR which are currently managed by Rong Viet Securities (VDS).
In 2018, 107 deals of bond issuance of listed companies were successful with total proceedings of VND 224,000bn, an increase of 94.5% YoY.
According to PDR, this bond amount was bought by 3 local investors and one foreign institution, namely Thanh Cong Securities (VND 40bn), Bao Long Insurance (VND 30bn) and Sai Gon 3 Incons JSC (VND 10bn) along with Vietnam Debt Fund PSC, a fund of Dragon Capital (VND 120bn). The proceedings will fund the Nhon Hoi-Binh Dinh project and will be disbursed in second half of this year.
In March meeting, Becamex IDC Corporation's Board of Directors (BCM) approved the plan to issue VND 1,500bn of 5-year nonconvertible secured bonds. Accordingly, BCM will issue 15,000 bonds at notional amount of VND 100mn. The proceeding is to increase the company's capital, expand Bau Bang and Cay Truong industrial zones, and invest in Becamex complex and other projects.

Previously, two big boys in real estate market, Vinhomes (VHM) and Dat Xanh (DXG) had received thousands of billion dong through issuing bonds. VHM had issued VND 2,000bn of 3-year bonds and DXG had received VND 1,400bn by sales of 1,400 5-year convertible bonds.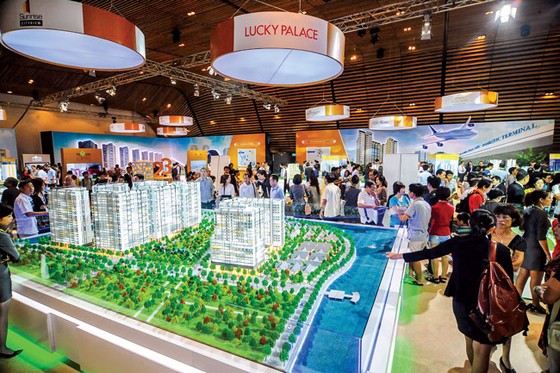 NVL has successfully rised funds from Vietnam and abroad. Photo: LONG THANH
The new listed company, Hai Phat Investment (HPX) was also successful in issuing VND 500bn of nonconvertible bonds.
The most remarkable deal belongs to Novaland (NVL) when this company successfully sold USD 140mn of nonconvertible bonds at Singapore Stock Exchange (SGX). NVL will use this proceeding to expand its land bank, develop the current real estate projects, and increase its working capital.

Fast and effective
According to Nguyen Van Dat, Chairman of PDR, the prominent character of real estate projects is need of fast money. Compared to banking interest rate and investment effectiveness, 14.45% rate is not high. The proceedings will fund projects which deliver higher return. Finally, the bond issuance helps create quick money for the company, not complicated process like borrowing from banks and increasing investment profits.

According to new regulations of State Bank of Vietnam (SBV), the ratio of short term deposits to long term loans has to decrease to 40% from previous 45%. The banks credit supply has been tightening, hence companies have to find other ways to raise funds. Le Hoang Chau, Chairman of Ho Chi Minh Real Estate Association (HoREA), said the investors are more interested in corporate bonds as they offer higher interest rate compared to bank deposit rate. The corporate bond is more attractive if the company has a reputation and feasible business plans.

According to Luong Tri Thin, Chairman of DXG, the current market conditions are favorable for corporate bond issuance. Many investors are interested in investing in corporate bonds. DXG's Board of Directors will work with investors to determine the issuance time to create the best value for DXG. The company also is scheduled to propose another plan of bond issuance in 2019 Annual General Meeting.

Build trust

Some experts say that the other reason for enterprises to issue more bonds is because of easing in government regulations.

For example, Decree 163/ND-CP, regulating the issuance of corporate bonds (effective from 1 Feb), comprises of many easing points. The Decree allows companies to issue bonds to invest in projects, increase company capital or restructure company capital status. The criteria for issuing bonds is also mitigated as the issuer only needs to submit an audited financial statement. The requirement of "company must show profit in prior year to issuing year" has been removed.

Although the regulations are easing, not all companies are able to issue bonds successfully. Practically speaking, many companies have failed because they could not get gain trust of investors.

An audit company leader says that not many companies are successful in issuing bonds because of trust problem. When the risk is higher, investors are more cautious to invest in the companies. To be successful, companies have to be transparent. Trust will be built by narrowing the distance between Vietnamese management practices and international standards.