A new draft for PPP law is needed to create a legal framework to govern activities related to this model and prevent partners from getting into legal disputes.

PPP needs new legal framework
The current drafted law already governs key areas that require huge investments, such as transportation, energy, water, waste treatment and healthcare.
PPP should be encouraged, as it is necessary to legalize all regulations related to it and as part of the legal system the law governing PPP should be incorporated with other laws.
However, in my opinion, the government should not just casually monitor the investment sectors, but should seriously consider PPP as key model to replace the current public investment resources.
The sectors which are allowed to apply PPP should be mentioned in a separate PPP law, rather than in the general law in terms of solution 1, solution 2.

The government should not determine minimum standards for applying PPP, as PPP will be the key model for investment and will play a very important role in economic growth and development of society in coming years.

For example, the minimum limit required in 1a solution is VND 1,200bn, and in 1b solution it is VND 300bn. These requirements by default do not allow any opportunity for smaller projects, and create a fraudulent method to calculate the actual size of various projects. Building regulations for PPP should take into account long term future development plans.

PPP under BOT and BT should be specific

According to suggestions made by the Ministry of Planning and Investment, the current regulation draft just governs BOT (Building-Operation-Transfer) contracts of road transportation projects. This is not reasonable. This regulation means that only fee-collection projects are allowed to apply in PPP. This narrows the construction area while we have many big projects that cannot be funded solely through government budget.

The government should establish a mechanism to manage all PPP projects; separate benefits of investors, operators and government in PPP projects to ensure transparency and obligation of each party in a project; reduce public loss in PPP implementation.
This regulation also causes misunderstandings and conflict of interests with related parties.
If government applies the "Government Payment Contract" and not PPP on non-fee-collection projects, there will be limitations in upgrading, improving and renovating the current non-fee infrastructure projects.
The types of PPP contracts are various depending on the type of contract parties, and there may arise new contract types in the future. Hence, if the regulation only governs BOT and BT contracts, it will not be realistic. The government should not determine specific types of contracts in the law.

The BT contracts should be implemented separately. The government should do the bidding for BT projects and the money to pay to constructors should come from land sales. The current regulation allows the investors to take the land as part or whole compensation for construction. This mechanism unintentionally creates a "double loss" in public assets which is caused in junction between fraudulent investors and project owners.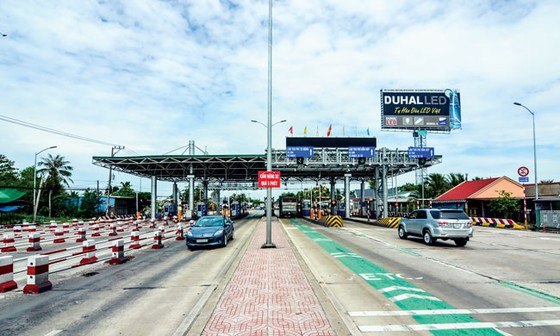 Toll booth Cai Lay-Tien Giang, BOT project reacted by public, has not been put into operation again.
Caution in project guarantee

The drafted law suggests removing resource allocation for mid-term and long-term investments, and replace with two options to fund PPP projects, by establishing a development fund for PPP or setting aside a public budget for infrastructure investments. I think this is not convincing, as it breaks the principals of financing and budgeting and public investment management.
Establishing a new fund will fragment the government budget. Further, PPP is just a form of public investment, it should be regulated by general regulations under Public Investment Law. The resource allocation for mid-term and long-term is more reasonable. We do not need to set aside a public budget. This also supports consistency in enforcement of the current public investment regulations.

In addition, Decree 63/2018 and Circular 88/2018/TT-BCT, on the settlement of PPP projects and inspections, auditing of public investment projects is appropriate and should be added in the draft PPP law.

It should be cautious to apply government guarantee on PPP projects, including minimum revenue guarantee, foreign currency guarantees, loan guarantee or other types of guarantees related to the operation, benefit and land in PPP projects. More and more local and foreign investors are interested in PPP projects.

The government guarantee for PPP investors, or the approval of a specific operation form for PPP, or the offer of specific benefit package for PPP may create risk and consequences for projects and also the economy.

The foreign exchange risk, public debt increase and the financial market volatility as well as government approval for operations of illegible investors have created market distortion and significant unfair treatment in the current business environment.