Unrealistic land fever

In December 2018, the Prime Minister approved a master plan to make Phan Thiet a national tourism hub and one of the leading tourist destinations in ASIA by 2025-2030. Based on this announcement, the government has prioritized investment in infrastructure projects in Phan Thiet. The investment amount for Phan Thiet Airport has been increased from VND 5,000bn to VND 10,000bn, so as to make it one of the three biggest airports in central Vietnam, after Cam Ranh and Da Nang airports.

The airport project announcement quickly caused a spurt in real estate dealings in Binh Thuan. The land prices in and around the vicinity of the airport project skyrocketed with speculators and traders moving to Phan Thiet to set up shop. Land plots which were earlier being offered at VND 1-2bn per ha, now have risen to VND 10-15bn.

The area covered by the real estate market earlier has also increased significantly with many other offers for huge projects in the pipeline by big companies. Some notable projects include 10,000 ha of Dubai of TTC Land, FLC Mui Ne & Beach Resort of FLC, 10,000 ha of NovaHills, NovaWorld of Novaland, and Summer Land Resort of Hung Loc Phat.

However, there are also several projects which have not been permitted investment but sale offers continue for them, which eventually will be a high risk for buyers.
Amidst this complicated scenario in the Phan Thiet real estate market, Duong Xuan Thang, Director of Binh Thuan Construction Department, has sent a document to nine real estate companies in this area to make mandatory corrections in their sales activities.
Some of these are: Hamubay Phan Thiet of Truong Phuc Hai; Goldsand Hill Villa of Loc Tu; Tien Loi Residential of Toan Thinh; Ocean Light Center of Huy Hoang; La Gi Quenpearl Marina Complex of VINAM; Ham Thang-Ham Liem Villages of Nguyen Binh; Mui Ne Summer Lan of Hung Loc Phat Phan Thiet.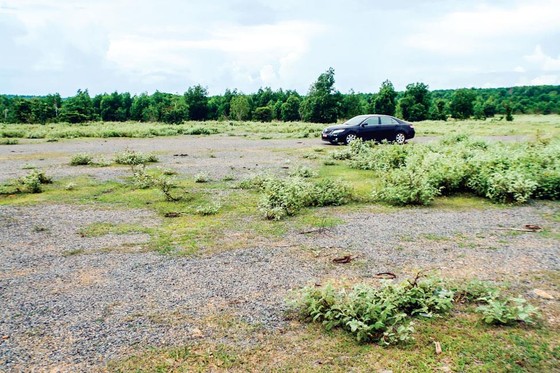 Currently just vacant land fields are being offered for sale at very high prices.
Binh Thuan Construction Department requires the above companies to stop selling or signing contracts with real estate brokerage agents to transfer or receive purchase orders from customers, and remove any such related content from the internet.
Practically speaking, Phan Thiet airport project has not made much progress so far. The project was kicked off in 2015, but it is still an empty piece of land. The construction of the road connecting to the airport from 706B highway is still pending.

Tu Van Phuoc, Chairman of Viet Uc Group said that many residential projects in Binh Thuan are facing difficulties as the authorities are currently strictly managing the real estate operations, such as planning, investment, construction and sales.

The authorities have now stopped approvals for each phase of projects. The real estate companies have to prepare a completed plan of the whole project to get the approval. This has created a higher cost for real estate companies and constrained them in their activities.

Avoid land speculation

According to Dr. Nguyen Anh Phong, lecturer of Economics and Law University, the investments which are mainly dependent on rumors of forthcoming projects without clear construction timelines or any concrete financial backing, have been badly impacting the real estate market, the local society, as well as the economy. The same problem happened for Long Thanh Airport or Phu Quoc Independent Economic Zone previously.

Nguyen Anh Phong also said that to reduce risk the local authorities should not just try to control the land fever but also inform of their plans very clearly and be transparent about all approval processes and construction timelines of the projects.
The investors should study carefully before trading. They should clarify the information given by developers of projects and prepare sound financial resources to avoid later losses caused by unrealistic land fever.

According to Ngoc Dinh, CEO of Law company Thinh Viet Tri, the increasing real estate investment demand of residents has been the reason for many land-split projects to arise. Some of these projects are planned on peaceful agricultural land areas. Some of these projects are also unreal and the owners just disappear as soon as they collect money from investors.

Furthermore, there are some brokerage firms, who are not developers, but officially announce themselves as owners of projects and make many illegal sales which have create an unrealistic surge in land prices.
Several projects, which are eligible for sales, are trying to approach clients through various illegal contract methods, like order receiving contract, investment contract or an agreement based on principle.