Foreign investors net selling

The market anxiety not only comes from the unpredictable movement of the VN-Index, but also because of the fall in trading value in April and May. Especially, after the first four months of net buying, foreign investors have been posting net selling in April and May to the amount of VND 483bn. Some investment funds have been divesting their investments and we have not seen any new investment funds flowing into the market yet. The foreign investment flow which usually pours into ETFs has also been slow since April.

About VND 180bn and VND 160bn flowed through Vaneck ETF and VFM ETF into Vietnam stock market in April. In the other ETFs, including FTSE Vietnam Swap ETF and KIM ETF, the withdrawals have stopped. So, only VND 340bn was invested in Vietnam stock market in April while it was VND 2,000bn in March. The caution in foreign investments have been caused by fears of US-China trade war which prompted foreign investors to withdraw money from high-risk markets such as Vietnam.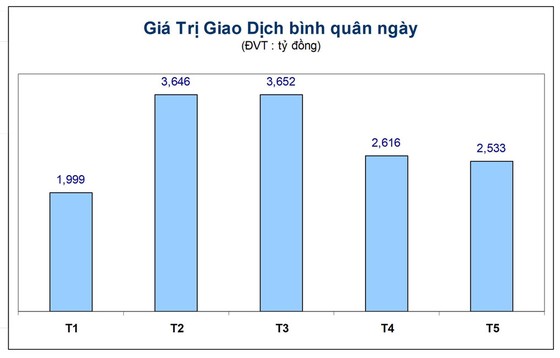 Transaction value per day (bn VND).
Notably, most blue-chip companies have been growing better than the VN-Index. Several leading enterprises are still under the investment radar of both foreign and domestic investors. The stock price of manufacturing and technology companies increased more than the index since the beginning of the year showing that market has been interested in these sectors. The stock price of real estate companies has been continuing to go up although this sector has been entering a difficult phase. Banking stocks moved opposite, in which BID fell most strongly because of its bad debt issues.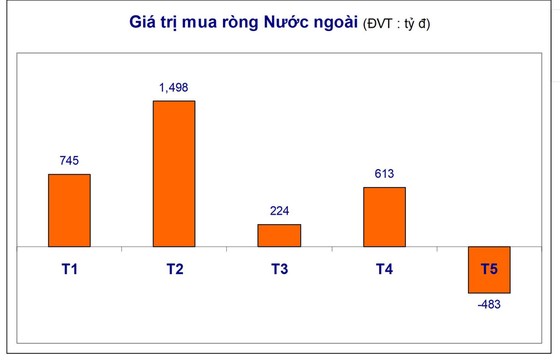 Foreign investor net buying (bn VND)

Market Challenges

Most investors expect VN-Index to reach 1,200 points by the end of 2019. This expectation is based on the stability in the economy, good GDP growth and controlled inflation. People are also waiting for the investment flow from China to pour into Vietnam in coming time. Based on these positive signals, investors forecast the stock market will recover in second half of the year and break through 1,000 points. Investors also expect the manufacturing and services companies to grow better than banking and real estate companies.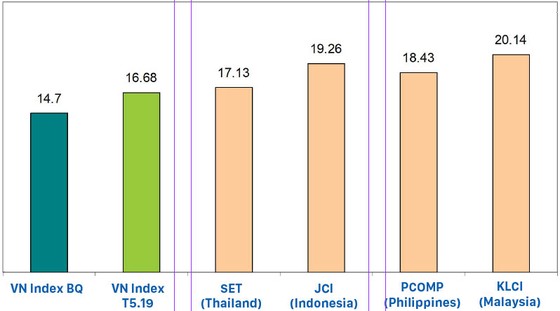 Average P/E of stock exchanges in May 2019.
However, market received much negative information recently, especially in bad operating results of listed companies. In Q1/2019, the revenue of listed companies increased compared to same period last year, however the growth decelerated. The growth of EBIT also slowed down in Q1/2019. The banking and real estate stocks, which are considered the market leaders, are forecast to face difficulties in 2019 as the State Bank has been tightening credit growth and controlling the cash flow to real estate market.

The market finds it hard to attract foreign investment as the P/E now is not at an attractive level. Although the P/E ratio of Vietnam stock market is lower than P/E ratio of regional markets, it is still higher than its 5-year average ratio. P/E ratio of some leading companies is currently at 18-20x. Hence, I think the stock market is likely to continue to go down until end of Q2/2019.

The 2019 AGM season is over where about 900 meetings were held in April. Most companies showed lower revenue and profit in 2019 than 2017 and 2018. Revenue and profit are projected to grow 17% and 12% in 2019, compared to 18% and 31% in 2018.