Hotspots

In 2019, real estate market in Van Don has showed signs of land fever picking up again as the government has allowed real estate trading activities to return. Previously, the government had banned all land sale transactions here, while awaiting the master plan for a special economic zone. The land price here has now increased 40-50% compared to before Tet.

A study showed that land prices in some places in Cai Rong rocketed to VND 50-60m per sq.m, land along Road 334 climbed to VND 26m per sq.m, while land in Dong Xa is trading at VND 23-28m per sq.m.

Over the last few months, real estate market in Da Nang has become a hot bargain. Real estate traders or so-called property middlemen sprung up in many localities, causing rocketing of land prices. There are hundreds of real estate offices operating around the vicinity of the Golden Hills project located in Hoa Hiep area in Hoa Vang in Da Nang.

A land broker said that land prices in Da Nang, especially in Hoa Vang, are now prohibitively high. A land plot may be handed over 3-4 times a day. A 125 sq. m plot of land in the Golden Hill project now costs VND 3.2bn compared to 1.5-1.6bn last year. This land plot that sold for VND 320m in 2010, now shows a clear 10-time increase.
In Phan Thiet, the real estate market is also under grip of land fever. There is a huge flow of people from Ha Noi and Ho Chi Minh to Phan Thiet for land investments, trading and speculating.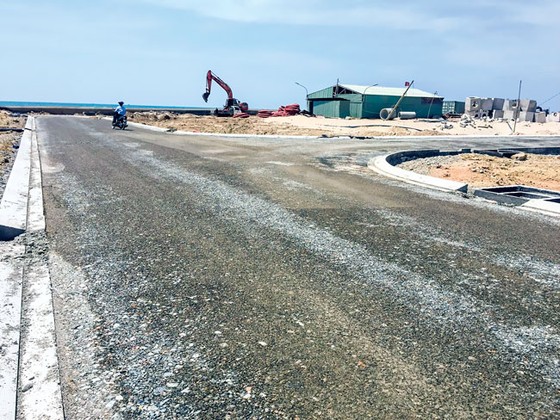 A sea-side project in Phan Thiet offered at VND 18-40m per sq.m
In Thien Nghiep area which is adjacent to Phan Thiet airport project, we see many cars, and coffee-shops full of people. It seems that anyone can be a land trader or land broker.
We were also chased by a broker. He tried to offer us a plot of land in a sea-side project at VND 18-40m per sq. m. The project is flexible, buyers can construct anytime, for any purpose, such as restaurants, hospitals and homestays.

Price bubble is worrisome

The price bubble in some hotspots is worrisome to both local authorities and real estate developers.

According to Nguyen Van Dinh, Vice President of Vietnam Association of Realtors, the increase in land prices is mainly driven by the sellers, according to the real estate trading data in the first quarter. Successful transactions are limited. Buyers are usually cautious in considering the market opportunity and risks. The land price boom in Quang Ninh, Da Nang, Khanh Hoa, Dong Nai and Phu Quoc is being caused by manic speculation caused by middlemen. Investors should be careful of bull-traps laid by speculators.

Dang Phu Thanh, Vice Chairman of People's Committee of Hoa Vang, says that the city has tasked local authorities to caution people of surge in land fever. City people should not sell all of their agricultural land for short-term gain and immediate cash, this may negatively impact their regular flowing income in the long-term.

The rocketing in land prices is being caused by speculators with rumors of an upcoming airport construction. The land speculators in Phan Thiet and other cities have been coming here to inflate land prices, creating a price bubble and badly impacting the lives of locals, said Tran Hoang Khoi, Vice Chairman of People's Committee of Phan Thiet City.

People's Committee in Phan Thiet has directed many police personal to walk down streets and alert authorities on land trading activities at some hotspots, to prevent devious speculating and cheating activities. The city has also directed the local authorities to strongly monitor and manage land transactions in Thien Nghiep area, while warning people not to participate in such speculating activities.