However, Vietnam has its own strengths, and the annual amount of remittances into the country have only been increasing sharply. This has helped greatly in the development and socio-economic growth of Vietnam.
Remittances increasing steadily
According to Mr. Nguyen Hoang Minh, deputy director of the Ho Chi Minh City branch of the State Bank of Vietnam, at the beginning of December, the number of remittances transferred to Ho Chi Minh City exceeded USD 4 bn, and are expected to continue to increase rapidly in the last month of the year.
According to Mr. Minh, the number of remittances transferred to Vietnam in a following year are often higher than in the previous year, and Ho Chi Minh City is always leading in the volume of remittances in the country. At this current rate, it is likely that Ho Chi Minh City will complete its target of USD 5.2 bn in remittances in 2019 itself, an increase of about USD 200 mn compared to 2018. The source of remittances flowing into the City are mostly from Vietnamese diaspora in the US, Europe, Australia, Korea, and Japan.
Referring to the whole country, the World Bank (WB) forecasts that Vietnam will receive USD 16.7 bn in remittances in 2019, an increase of 4.6% compared to the same period last year. Previously, Vietnam received USD 13.8 bn in 2017 and USD 15.9 bn in 2018. These are very significant figures, because in 1991 the amount of remittances sent to Vietnam were only about USD 35 mn, in 2000 they were a little more than USD 1.75 bn, and in 2005 about USD 3.8 bn.
In recent years, with an increase in number of expatriates and export labor, Vietnam has been in the top ten countries receiving the highest remittances in the world. According to information at a conference on overseas Vietnamese organized by the Party Affairs Committee of the Ministry of Foreign Affairs and the Central Commission for Public Affairs in July 2019, about 4.5 million Vietnamese living abroad are becoming more and more stable, and integrating well in their host country. Currently there are about 500 Vietnamese associations abroad.
Meanwhile, according to data received from the Ministry of Labor, War Invalids and Social Affairs, Vietnam's export of labor is continually increasing. In 2017, export of labor reached a record high of over 134,000 employees abroad, exceeding 28.3% of the year plan. In 2018, the total number of Vietnamese employees working abroad reached more than 142,000, exceeding 30% of the plan, and the fifth consecutive year that the number has exceeded 100,000 employees. In the first six months of 2019 alone, nearly 67,000 Vietnamese workers went to work abroad, reaching 55.82% of the 2019 plan.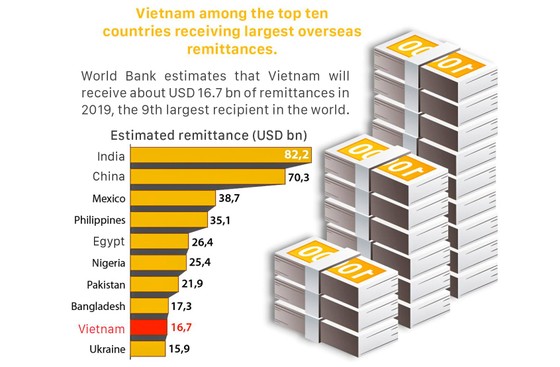 From 2006 until now, Vietnam has sent more than one million workers to work abroad. Along with a large number of Vietnamese diaspora, the income of these groups has also increased over the years, positively impacting the remittance amount transferred to Vietnam.
Remittance not inferior to FDI
According to a newly released report by the Foreign Investment Agency (MPI), in the first eleven months of 2019, FDI projects were estimated to disburse nearly USD 17.7 bn. In the entire country, there was 8,561 times more capital contribution and share purchase by foreign investors, with total value of capital contribution at USD 11.24 bn. But comparing this figure to amount in remittances must not be seen in any way as inferior for remittances, as they serve as a major contributor to balancing growth, supporting foreign exchange reserves, and improving the living standards of a vast number of people on the receiving end of these remittances.
Recently, in a report by the BIDV Training and Research Institute, until the end of November, the exchange rate only increased slightly by 0.02%, almost flat compared to the beginning of the year, and the central rate increased by 1.45% compared to the beginning of the year. This result is due to the relatively positive macro-economic context in Vietnam, such as abundant foreign currency supplies; accumulated eleven-month trade balance with a surplus of USD 9.1 bn; FDI attraction with realized capital of USD 17.62 bn, up 6.8% over the same period in 2018; and VND and USD interest rate gap remaining positive, around 0.2-0.3% per year (1-week term).
By offering favorable conditions, remittance flows to Vietnam are forecast to continue to increase in coming years.
More notably, in recent years, the money has become an important capital support channel for domestic production and small businesses. According to experts, in addition to overseas workers or expatriates transferring money to their relatives to spend or deposit, many Vietnamese people tend to set up private home grown businesses and call for resources from family members abroad. In fact, in recent years 70% of capital flow from remittances flows into production, small businesses or trading activities of households.
Good policies
With regards to attracting remittances, the State has always encouraged and created favorable conditions for overseas Vietnamese to send money back home conveniently and with ease, such as by abolishing many tax regulations and not limiting the amount of money, or transactions in original currency. At the same time, the money transfer services through formal channels has grown quite strongly, with the participation of many competing credit institutions, and money transfer companies are also agents that strongly support this cash flow.
Meanwhile, banks have invested in modern technology, strengthened their cooperation with major partners to deploy convenient money transfer services, such as Western Union, MoneyGram, same day money transfer service from USA to Vietnam, Wells Fargo, Express Send, online remittance services, remittance service via mobile phone, all at very competitive service rates.
The fact is that remittances do not bring much profit but help banks to buy foreign currencies and increase deposits because many customers choose to convert foreign currencies into Vietnam dong for their savings. In addition, banks can cross-sell other products to customers receiving remittances.
Therefore, investing in upgrading technology infrastructure and building APIs will help banks quickly integrate into these platforms, and help connect more Vietnamese people with international money transfer services. By offering such favorable conditions, remittance flows into Vietnam are forecast to continue to increase in coming years.
Translated by Mathew Hùng

Từ khoá :