What investors really want to know is what effect will the current sharp impact on the oil and gas industry in the early days of 2020 have on the price of oil and gas in the months ahead.
2019 - A quiet year
The end of 2019 saw the VN Index increase by about 8% from 880 points to 890 points. The general market had increased well in the first two months of the year, then went into adjustment to around 960 points to 1,000 points for the rest of the year.
The growth of the stock index in absolute value was quite modest, and 2019 was a difficult year for not only stock markets but also for the oil and gas industry. Except for leading industry groups such as PVGas, PTSC, PVtrans and PVD that had positive business results, smaller groups of Binh Son Petrochemical Refinery (BSR), PVoil, and PVPower have not achieved the results as planned. This also partly reflects the price movement of these shares in 2019. GAS, PVS, PVD, PVT increased slightly, while PVPower, BSR, and DCM continuously saw new bottom. This is obviously not good news for businesses and investors holding these stocks.
Meanwhile, according to data from Fiin Pro, in the last six months of 2019, oil and gas stocks such as GAS, PVD, and POW were strongly sold by foreign investors besides also stocks of VIC, VHM, and MSN. This shows that oil and gas stocks were not only affected by internal causes in the industry, but also by the selling force of foreign investment funds.
2020 - Many difficulties ahead
Although some international organizations and corporations forecast that oil prices will recover in 2020, they are expected to fluctuate in the range of USD 70 to USD 80 per barrel, but it is still too early to say how much the oil and gas enterprises will benefit from this scenario. Major domestic oil and gas projects are expected to bring jobs for businesses, such as Ca Rong Do, Blue Whale, Yellow Leopard, and Black Leopard fields, which are all behind schedule or temporarily suspended.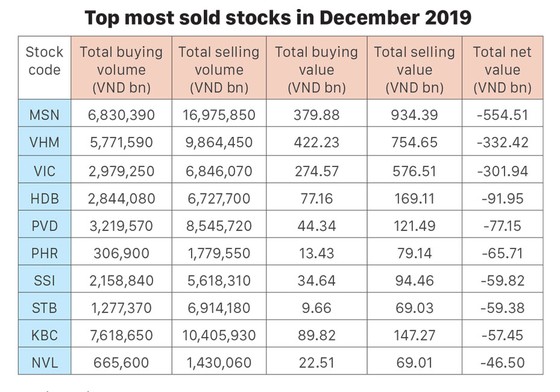 These under exploration oil and gas fields are in sedimentary basins such as Cuu Long and Nam Con Son, and are all in the final stage of exploration with reduced output. This is also one of the reasons that caused the gas-electricity-fertilizer segment to face many disadvantages in 2019 and may continue to do so in the whole of 2020. In 2020, the world oil price is likely to increase beyond the threshold of USD 75 per barrel as a result of the conflict between the US and Iran. The speculative cash flow will focus on popular stocks in the industry, such as GAS, PVT, PVS, and PVD. Therefore, the divergence between oil and gas stocks will continue to occur in 2020.
Causes
Many reasons can explain the situation above. First, there are more incidents from upstream activities. Many large mining projects have been implemented slowly. Oil and gas projects such as Sao Vang Dai Nguyet and Block B O Mon have not achieved the required progress. Blue Whale Project, one of six key projects of Vietnam National Oil and Gas Group (PVN), is being delayed and divestment of PVN in 19 enterprises has encountered difficulties, somewhat affecting the business and production situation in the units.
Compared to the period before 2014, in recent years, enterprises in oil and gas industry all have recorded a decrease in profit and revenue. Despite the efforts of each unit, the support from the Government, and progress in implementing of important oil and gas projects, there are too many factors affecting business performance such as stock prices. The unfavorable oil price in 2019 is also a factor affecting the plans and results of many enterprises.
Another reason is the slow divestment and the production and business situation of some oil and gas enterprises which have not reached their targets. Specifically, compared to the divestment target of PVN, the speed of divestment in 19 enterprises had not changed in 2019. New policies from the group and divestment decisions all took place slowly compared to the plan, somewhat disappointing investors. Regarding the production and business situation, except for some corporations, member companies that exceeded the plan in 2019 such as PV Gas, PTSC, PVtrans or Vietsopetro, most companies such as PVoil, BSR, PvPower, and PVD faced certain difficulties.
Some bright spots
In 2019, PetroVietnam Gas Corporation (PVGas) surpassed most of its business targets. All four gas systems of PVGas operated safely and effectively, continuously supplying gas to customers, and exceeding the production plan by 6-44%. PVGas has produced and provided more than 9.9 bn cubic meters of dry gas, over two mn tons of LPG (1.3 mn tons for domestic); over 66,000 tons of condensate, of which LPG output target reached the target three months ahead of schedule.
The world oil price is likely to increase beyond the threshold of USD 75 per barrel in 2020, and speculative cash flow will focus on preferred stocks such as GAS, PVT, PVS, and PVD.
However, many upstream operating incidents occurred, such as the incident at Thai Binh mine, flooding and saltwater intrusion into some fields, delay in projects of Nam Con Son phase 2, Sao Vang Dai Nguyet, and White Lion phase 2. Since the beginning of the year, GAS stock price has increased from VND 80,000 to VND 94,000 per share.
PetroVietnam Technical Services Corporation (PTSC-PVS) had consolidated revenue in 2019 of VND 16,000 bn, achieving 123% of the plan, up by 5% compared to 2018. Consolidated profit before tax was at VND 860 bn, reaching 123% of the plan, down 12% compared to 2018. Consolidated profit after tax was VND 610 bn, reaching 109% of the plan, up 6.5% compared to 2018.
In 2020, it is expected that the oil and gas service market will be positive with many ongoing projects deployed, such as Sao Vang Dai Nguyet, Gallaf-Al Shaheen, and Long Son petrochemical complex. However, there are still many risk factors and uncertainties that are likely to directly impact production activities and business performance of PTSC. The price of PVS stock had increased slightly in 2019 from VND 16,000 to VND 16,800 per share.
For PetroVietnam Drilling and Well Services Corporation (PVD), the business results in 2019, including net revenue, reached VND 4,500 bn, 117% of the plan. Profit after tax was at VND 88 bn, with expected loss at VND 440 bn. The highlight of 2019 for PVD was the signing of a six-year contract to supply the semi-submersible drilling rig "PV DRILLING V" for Brunei Shell Petroleum Company Sdn Bhd (BSP). Although the business has prospered, the price of PVD is still lower than book value, only increasing slightly from VND 12,600 to VND 15,000 per share as of 31 December 2019.
Translated by Francis