The G20 is an international leaders' forum comprising 19 countries and the European Union.
Collectively, the grouping represents more than 80 percent of the world's economic output and two-thirds of its people. Its primary aim is to promote international financial stability.
Here are the latest updates:
Saturday, June 29:
The G20 Declaration
The US-China trade war and climate change have been contentious issues during the G20 summit. Here are key excerpts from the G20 Declaration that reference them.
Global business environment
"We strive to realize a free, fair, non-discriminatory, transparent, predictable and stable trade and investment environment, and to keep our markets open. International trade and investment are important engines of growth, productivity, innovation, job creation and development. We reaffirm our support for the necessary reform of the World Trade Organization (WTO) to improve its functions.

"We reaffirm our commitment to further strengthening the global financial safety net with a strong, quota-based, and adequately resourced International Monetary Fund (IMF) at its center.

An open and resilient financial system, grounded in agreed international standards, is crucial to support sustainable growth. We remain committed to the full, timely and consistent implementation of the agreed financial reforms."
Work on climate change
"Noting the important work of the International Panel on Climate Change (IPCC) and Intergovernmental Science-policy Platform on Biodiversity and Ecosystem Sources (IPBES), and in the light of recent extreme weather events and disasters, we recognize the urgent need for addressing complex and pressing global issues and challenges, including climate change, resource efficiency, air, land, fresh water and marine pollution, including marine plastic litter, biodiversity loss, sustainable consumption and production, urban environmental quality and other environmental issues, and for promoting and leading energy transitions, with the best available science, while promoting sustainable growth

We emphasize the importance of providing financial resources to assist developing countries with respect to both mitigation and adaptation in accordance with the Paris Agreement.

The United States reiterates its decision to withdraw from the Paris Agreement because it disadvantages American workers and taxpayers. The U.S. reaffirms its strong commitment to promoting economic growth, energy security and access, and environmental protection. The U.S.'s balanced approach to energy and environment allows for the delivery of affordable, reliable, and secure energy to all its citizens while utilizing all energy sources and technologies, including clean and advanced fossil fuels and technologies, renewables, and civil nuclear power, while also reducing emissions and promoting economic growth."
Erdogan says Trump won't impose sanctions on Turkey for buying Russian missile system
Turkish President Recep Tayyip Erdogan said his US counterpart Donald Trump informed him that the US would not impose sanctions on Turkey for buying Russian-made S-400 missiles.
The issue of sanctions had cropped up in an earlier bilateral meeting between the NATO allies, where Trump said they were working to ensure Turkey did not get penalised. Erdogan added that he expected the US to deliver US-made F-35 fighter jets in July as talks between the two countries continue.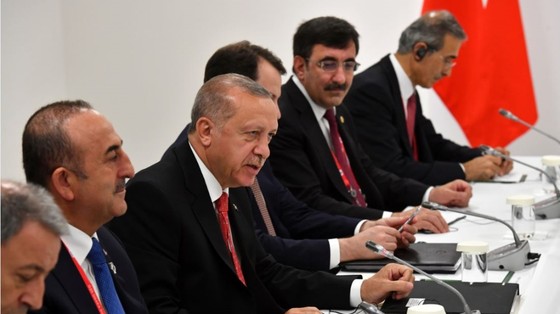 Turkish President Recep Tayyip Erdogan says Trump told him the US won't impose sanctions [Yuri Kadobnov/Pool/Reuters]
Trump: US companies can sell equipment to Huawei
When asked by a reporter about his ban on US companies selling high-tech components to Chinese telecommunications giant Huawei, Trump said:
"I did agree to allow our companies" to sell equipment to the firm.
Huawei is a leader in the latest 5G mobile phone technology. The US says the company is a threat to US national security.
Trump on Saudi journalist Jamal Khashoggi
Trump was asked by a reporter if he agreed it was "despicable" for a government to kill a journalist.
Trump replied: "Yes, I do. I think it's horrible. Or anybody else, by the way. And if you look at Saudi Arabia, you see what's happening, thirteen people, or so, have been prosecuted. Others are being prosecuted. They've taken it very, very seriously. And they will continue to."
Trump: US won't raise tariffs on Chinese goods for now
President Donald Trump says the US will hold off raising tariffs on more than $300bn worth of Chinese goods while negotiations to end the trade war between the two countries continue.
"We will be continuing to negotiate. And I promised that for at least the time being, we are not going to be lifting tariffs on China, and we won't be adding an additional, I guess we have $350bn left which could be taxed, or could be tariffed. And we're not doing that. We're going to work with China on where we left off to see if we can make a deal," Trump said at a news conference at the end of the two-day G20 Summit.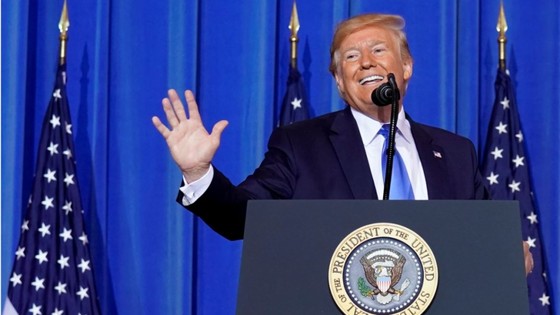 Trump says he will not raise tariffs on a further $350bn worth of Chinese goods for now [Kevin Lamarque/Reuters]
Japan's Abe: G20 heads to promote 'inclusive economy'
At the conclusion of the G20 Summit, Japanese Prime Minister Shinzo Abe said the leaders have agreed to principles governing the global economy.
"Trade tensions are continuing, and that's a risk. We have to keep those risks and tensions in mind. Still, we have united in agreeing that we have to lead the world economy," Abe said at a news conference.
"There is some dissatisfaction between countries. So although there are concerns, what we have to do is establish principles to lead the world economy to the future. Free, fair and inclusive economy and open competition. Those principles have been affirmed between the leaders at this G20 meeting."
Abe also said the leaders discussed the rapidly evolving digitalisation of the world economy, plastic pollution of the seas and women's rights.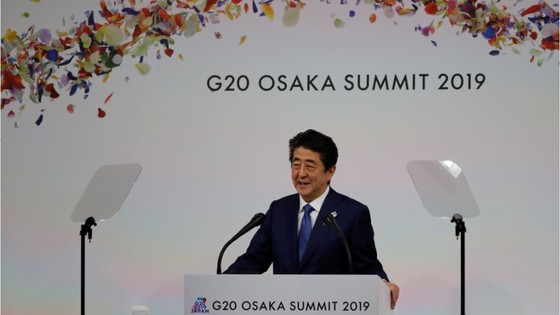 Japan's Prime Minister Shinzo Abe says G20 leaders agreed to work towards a 'free, fair and inclusive economy' [Jorge Silva/Reuters]
North Korea: Trump's offer to meet 'very interesting'
North Korea said on Saturday US President Donald Trump's offer to meet leader Kim Jong Un at the Korean Demilitarized Zone (DMZ) is a "very interesting suggestion," raising prospects for a third face-to-face meeting between the two leaders.
According to the North's official Korean Central News Agency, First Vice Foreign Minister Choe Son Hui said that the meeting, if realized, would serve as "another meaningful occasion in further deepening the personal relations between the two leaders and advancing the bilateral relations."
But Choe said that North Korea has yet to receive an official proposal for the DMZ meeting from the US.
Earlier Saturday, Trump invited Kim to shake hands during his planned visit to the DMZ, which has served as a de-facto border between the Koreas since the end of the 1950-53 Korean War. Trump is scheduled to fly to South Korea later Saturday for a two-day trip after attending the G 20 Summit.
Trump: Turkey's missile deal is 'complicated'
President Trump says he and Turkish President Erdogan were trying to find solutions to Turkey's purchase of Russian made S-400 defence missiles, due to be delivered next month.
The US has threatened to impose sanctions on his NATO ally because of the purchase but Trump said President Barack Obama's administration had placed unfair restrictions on Turkey's plan to buy US-made Patriot missiles. Trump said Turkey had turned to Russia because of Obama's move.
"We're looking at different solutions. It's a problem there's no question of about it," Trump said.
Trump also said he would visit NATO ally Turkey some time in the future.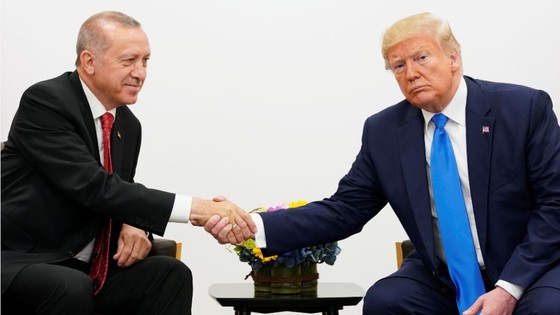 After a meeting with Turkish President Recep Tayyip Erdogan, Trump says they're looking for solutions around Turkey's purchase of Russian missiles [Kevin Lamarque/Reuters]