Thousand billion dong investments

QNY solar power project is being developed by QN Energy Joint Stock Company of Korea with total investment capital of VND 1,672bn (USD 70mn) at Nhon Hoi Industrial Zone in Binh Dinh. The investment was certificated on 6 May 2019 by Binh Dinh People's Committee.
Banks should be careful in lending to areas where development is mainly dependent on government policies, weather and the monopoly of EVN.
Not just foreign investors, domestic companies are also interested in making huge investments in these mega green power projects. BIM Group has just kicked off the construction of three plants, BIM 1, BIM 2, and BIM 3 in Ninh Thuan. These are among the biggest projects of ASEAN with total investment capital of VND 7,000bn.
Trung Nam Group has just done a commercial run of its first phase of solar power and wind power complex with investment of VND 6,000bn.
In Daklak, the Srepok 1 and Quang Minh projects were launched in March 2019, with total investment capital in these two projects amounting to VND 2,200bn.

These recycle power projects have been speeding up and expanding quickly since the issuance of Decision 11/2017 by the Prime Minister on the mechanism to encourage development of solar power projects in Vietnam. The benefits are expected not just from capital, taxes and land sales, but also electricity selling price determined at VND 2,086/kwh (9.35 US cents). This price does not include VAT tax and is adjusted based on current market conditions.

After one year of issuance of Decision 11/2017, there have been over 100 solar power projects registered at Ministry of Industry and Trade and 750 rooftop solar power projects were implemented.
At the beginning of 2019, the government agreed for Ministry of Industry and Trade to add another 17 solar power projects to the master plan. The number of projects now are nine times more than listed in the VII plan. So the total number of solar power projects now near 140.

Risk from EVN

Like many other development projects, the thousand billion dong solar power plants are heavily funded by bank loans. BP 1 solar power project, with total investment capital of VND 1,315bn, was through loan by Vietcombank with a credit limit of VND 785bn. Last year, Vietinbank also loaned VND 1,000bn to TTC 1 project which has investment capital of VND 1,600b. Agribank loaned VND 490bn to Phong Dien, Thua Thien Hue Plant with investment capital of VND 1,000bn.

Last year, HDbank kicked off a long term plan to support solar power project with totalcredit limit upto VND 7,000bn until 2020. This year, the bank will support the Sao Mai PV1 project with a VND 1,400bn loan.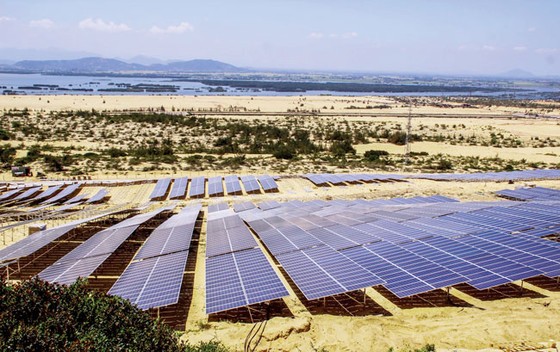 A solar project in Nhon Hoi, Binh Dinh. Photo: NGOC OAI
OCB also signed a contract to fund TTC Energy to invest in solar power project which is being constructed for rent. The collateral of the loan is the project itself. The loan to value ratio is 70%.

Solar energy is placed in as a central need for the country's growth, and the lending activities of banks have been helping support the development of these green power projects.

To reduce risks, banks will prioritize lending to projects which are already on the project list of the 2020 master plan, especially projects which will begin operations before 30 June 2019. However, not every project is receiving funds from banks as the State Bank is tightening ratio of short term deposit to long term loan.
One more thing, in the appendix of sales contract, there is a term that EVN has the right to stop transmitting electricity if the transmission runs over capacity. EVN is the sole wholesale buyer of electricity in Vietnam hence it holds all the odds. If the transmission is over capacity, EVN has the right to stop buying electricity from producers.

According to media, some transmission systems are already running at full or over capacity. The time for construction of a solar power project is usually about 6-12 months, but the transmission system construction often takes 3-5 years. The difference in construction time is the barrier for production of solar power plants, especially for projects which are constructed in the same area. Risk is high in these conditions. Furthermore, many projects have been borrowing from banks even though they are not connected to the transmission system.

Need support policy

Previously, as the demand for development projects was encouraged, such as by BOT (Build, Operation, Transfer), these BOT projects have been developing quickly. Most BOT project were supported by bank loans for a term of 15-30 years, while construction phase lasts 5-7 years.

The credit risk for banks in BOT projects was nearly zero. The only risks that banks have to consider are funding risk, asset-liability-management risk and policy risk. Some banks have been falling in a situation of capital imbalance because of concentration in lending for these projects.

Regarding solar power projects, the lending period is shorter, about 1-3 years for rooftop solar power projects and 10-12 years for bigger projects. The selling price is 9.35 US cent/kwh if the plants operate before 30 Jun 2019. Selling price of projects which are planned for commercial run after this time is not yet determined.

According to some experts, the recycle energy projects should be encouraged to develop, not restricted as they are being currently. The encouragement should be linked to a favorable policy to help investors find a suitable funding source.

In other countries, the capital for developing these green power projects mainly comes from public budget that supports environment friendly projects. Vietnam does not have such a budget yet. However, these projects can be funded by other capital resources such as through foreign investors, investment funds or bond issuance.
The development of recycle energy projects should be parallel with environment management. Especially worth noting is that treatment of solar cells that have expired are a problem in many developed countries.
Solar energy technology is still under a development process to provide renewable power. However, solar panels have a lifespan of about a decade or so but they eventually wear out. Their efficiency level too reduces per year. This technology still has no means to recycle old solar panels or even dispose them, once they expire.