Banks are main players

Recently, we hear a lot about bond issuance from banks.
VPBank is seeking approval of shareholders to issue bonds at the foreign stock exchange. VPBank has not informed of the volume and method of the issuance yet. However, according to the 2019 plan, VPBank projects to raise VND 252,435bn from customer deposits and valuable paper issuance.
Currently, most enterprises are not proactively issuing bonds. They wait for banks to raise deposits, then loan to them. This complicated flow causes a higher interest cost than that of bond issuance.
ACB announced that its Board of Directors had passed a plan for second bond issuance in 2019. The maximum approved notional amount to be issued this year will be VND 5,500bn. These bonds will be issued for a 2-3-year term in 5 phases through agents. ACB had been successful in issuing VND 2,200bn of 3-year bonds in November 2018.
BIDV was also successful in raising VND 4,586bn through 7-year and 10-year bond issuance in 2018. Excluding the issuing cost of VND 1,740bn, the net proceedings to add to its tier 2 capital were VND 3,998bn.

In 2018, the group of 8 banks, including Vietcombank, Vietinbank, BIDV, Agribank, HDBank, VPBank, VIB and MB, issued VND 25,300bn of bonds with terms from 3 years to 10 years.
This year, Vietinbank has been approved by the State Bank to issue VND 10,000bn bonds.

Bond issuance pressure

Currently, about 70-85% of banks' funding sources are short-term deposits, however, above 1-year loans constitute 40-60% of banks' total loans.

Furthermore, the State Bank requirement that asks banks to reduce the ratio of short-term deposits to long-term loans has been creating pressure for banks to restructure their balance sheets. Banks either have to increase their long-term deposit or cut their long-term loans. However, banks are still playing an important role in supplying mid-and-long term funds to enterprises, hence, banks have to raise more long-term deposits, rather than cutting long-term lending.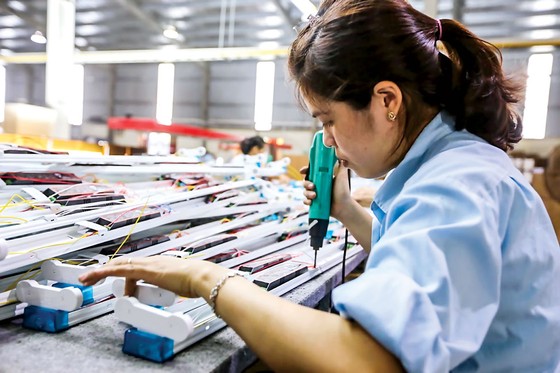 Several enterprises acknowledge the benefits of bond issuance compared to bank loans.
However, bond issuance is not easy as it requires enterprises to meet required international standards, including having a credit rating score.
Also, banks have to issue more bonds, to meet the requirements of Basel II. So, the demand to issue bonds by banks will increase significantly. The valuable paper issuance is not only for long-term fund raising but also to help increase banks' tier 2 capital to meet requirement of the State Bank. The increase of owner equity will allow banks to lend more.
Banks also issue bonds to get money to pay for their due deposits. According to the State Bank, the bad debt ratio was 2.02% at the end of March, an increase of 0.13% compared to end of December 2018.

The over-due debt of 22 reported banks at the end of Q1/2019 was VND 83,225bn, an increase of VND 4,160bn. The group 5 also surged by VND 1,850bn to VND 45,000bn, constituting 55% of total bad debt. The funds that were stuck in these bad debts must be offset by new deposits or bond issuance.

Incurve higher interest cost

The financial market includes the capital market and the money market. While the money market supplies the short-term funds for the economy, the capital market supplies the long-term funds for enterprises.

One channel for enterprises to raise mid-and-long-term funds is corporate bond issuance. In other countries, the corporate bond market is bigger and more stable than bank credit. This channel offers lower risk, lower interest rate, helps reduce the burden on banking system and balances funding sources in the economy.

In Vietnam, enterprises do not utilize this channel effectively. Although the corporate bond issuance criteria eased after issuance of Decree 163, enterprises still face many difficulties in issuing bonds and usually raise funds through banks.

According to some experts, most enterprises do not follow IFRS to present their financial statement. They also have a low score of corporate governance and lack of credit rating system. These are barriers to raise funds by issuing bonds.

Nguyen Dinh Tung, CEO of OCB said that four years ago, OCB had to apply for IFRS (International Financial Reporting Standards) as a requirement for foreign investors to lend funds to the bank. In 2018 OCB prepared to list on the stock exchange and did road shows to attract foreign investors. By already applying IFRS, the information disclosure process was easier and simpler.

The benefit of applying IFRS is clear but it is not easy to meet this requirement. Many companies do not like to be transparent, especially state owned enterprises, as the IFRS application will reveal the true picture of enterprises, including their weaknesses.

Furthermore, the current market lacks a credit rating company to evaluate the issuer. It also does not have enterprises to guarantee payment of interest and principal. These problems constraint the issuances of corporate bonds, which consequently create higher interest costs for corporates and more burden for the banking system.