Ho Chi Minh City is special in many ways, with many advantages and vast potential. This City is the country's economic hub, having pioneered many successful star-ups. Currently, Ho Chi Minh City is the fastest growing City in Vietnam, contributing 21% to the GDP, 28% to the national budget, 16% to industrial production and 15% to Vietnam's total exports.

The City is also the most interesting investment place. So far, there have been 8,000 FDI projects with total investment capital of USD 45 billion. The City also has 152 PPP projects with investment capital of USD 20 billion.

Understanding its advantages, Ho Chi Minh has been improving its administrative procedures, investment environment, and creating a favorable climate for enterprises to develop.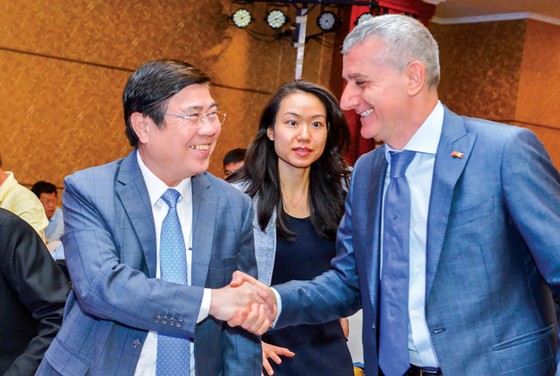 Mr. Nguyen Thanh Phong, Chairman of Ho Chi Minh City People's Committee, welcomed the foreign investors at the Investment Conference. Photo: VIET DUNG
Ho Chi Minh City is changing to becoming a super smart city. Although the City has achieved huge success in attracting investments, it still is facing many difficulties and challenges such as pollution, water logging and traffic jams. These are bottlenecks and barriers for economic growth and impact the City's competitiveness.
This situation is caused by many reasons, and one of which is the under-development of the entire infrastructure system. According to estimations, to achieve a growth of 8-8.5%/year over 2016-2020, Ho Chi Minh City needs at least USD 78 billion, in which USD 40 billion will be for infrastructure development.

This is a very big challenge as the City's budget is only enough for 20% of this demand. The permitted ratio of its budget went down from 23% to 18%, which caused a decrease of VND 16,000 billion, which in turn consequently impacted the City investment fund.

As the leading economic hub of the country, any slowdown in economic growth of Ho Chi Minh City will impact the growth of the entire nation. Hence, through the Investment Conference, Ho Chi Minh City would like to call upon new investments from serious investors, and to cooperate with the authorities to help the City achieve its development target.

When investors are implementing their projects, authorities will take full responsibility in creating a favorable environment for all business operations as well as protect against any untoward obstacles. A good business environment does not only include a good policy, but also the commitment and support of authorities during the building and operating of an enterprise.

The City is committed to providing the highest standards of support, favorable political policies, a stable environment and good working conditions, besides also protecting the assets of the investors. Ho Chi Minh City hopes for more investment projects in coming times.
Harold Chen, Vice Chairman, Alpha King:
Willing to co-operate with Ho Chi Minh City
Build Your Dream Limited (BYD) is a partner of Vietnam Alpha King. BYD has invested USD 800mn and resources of 1,000 engineers in the R&D project to create BYD Sky Rail, a system of horizontal beams and panels that will adapt well to the terrain and transportation system in Ho Chi Minh City.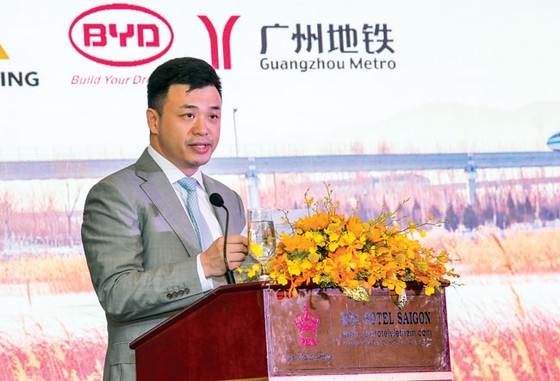 This system will help resolve traffic jam problems at a lower cost with shorter construction time compared to aerial railways and subways. We are willing to co-operate with Ho Chi Minh City to help make it one of the gateways of ASEAN. We hope that the authorities will allow Alpha King and BYD in its research and construction work for Route 1 and Route 2 of the City railway project.
Linson Lim,
Chairman, Keppel Land:
Support enterprises to minimize risks
The current global economic slowdown may impact Vietnam's economic growth but I still believe in a long-term growth outlook for Vietnam and am committed to investing more in Vietnam, especially in Ho Chi Minh City. We are so happy as the City has been supporting investors and creating favorable business conditions for our operations.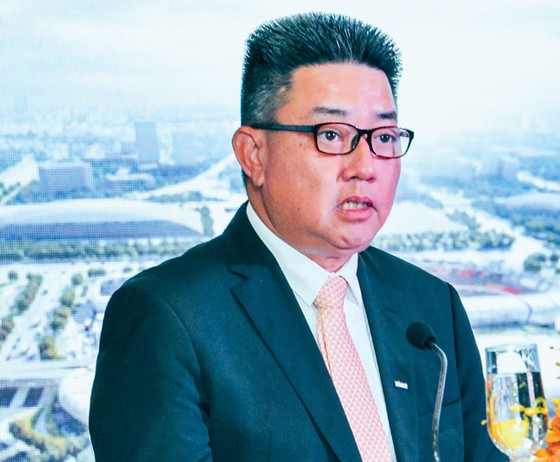 I also hope that the authorities will continue to help enterprises minimize risks by making such policies and the approval process clearer. These improved changes will help investors to be more confident in making investment decisions, operate more effectively and contribute to the development of Ho Chi Minh City. Human resource is the foundation for all enterprises and a higher quality labor force will be the key to attract more foreign investors. Ho Chi Minh City has a young, hardworking and well-educated workforce. I hope that the City continues to invest in education and training of its labor force to be ready for future opportunities.