The U.S. startup hoped to sell more of its artificial-intelligence software to the U.S. government after working with the Pentagon, according to people familiar with its operations, and worried its effort could be hurt by the investor's ties to China's government. The chairman of the Chinese-backed investor, Digital Horizon Capital, was asked to sell back its stake, said one of the people. He angrily refused.
Chinese investors were once embraced in Silicon Valley both for their pocketbooks and their access to one of the world's largest and trickiest markets. Today, they are suddenly less welcome.
Since late last year, amid rising U.S.-China tensions, venture firms with China ties have been dialing back their U.S. investments, structuring deals in novel ways to avoid regulators or shutting their U.S. offices. Some American venture firms are dumping their Chinese limited partners or walling them off with special structures. And some U.S. startups that have taken significant Chinese money are keeping the investments quiet or trying to push their Chinese investors out to avoid scrutiny.
After hitting record levels early last year, Chinese funding for U.S. startups slowed beginning in May 2018, according to research firm Rhodium Group. And state-backed Chinese investors all but disappeared by year-end, Rhodium said. Meanwhile, foreign direct investment from China, which includes acquisitions of U.S. companies, plunged 90% to $5 billion in 2018 from $46 billion in 2016.
Behind the shift in sentiment is an effort by the U.S. government to stem a talent and technology outflow it fears could threaten American economic and military superiority. Some Chinese investors hoped a trade deal would be struck in April, easing tensions and reopening the path to investments, but instead the trade fight has spiraled into higher tariffs.
Some American venture investors say Washington is overreacting and threatening the benefits that come from open trade with China, cutting off startups' access to a lucrative market and source of capital. Two venture firms with China operations have complained to a Defense Department unit of being unfairly singled out, a sign of the gap in how the two sides assess the threat.
Many Washington policy makers don't understand technology, and many technology executives don't understand great power politics, said Amy Zegart, a senior fellow at the Hoover Institution, a conservative think tank.
The U.S. government's pressure campaign gained momentum last fall when a new law increased the power of the Committee on Foreign Investment in the U.S., or Cfius, to require international investors to get approval for technology deals. The change restricts investments in companies working with more sensitive technologies and adds red tape that makes foreign investment less attractive to U.S. startups.
Around the same time, a group of senators and Trump administration officials began holding private meetings with Silicon Valley companies and investors to warn of the risks of doing business with China.
The administration criticized China's efforts to obtain U.S. technology in a November report describing how Chinese venture firms with state ties could gain access to intellectual property from U.S. startups. The report from the U.S. Trade Representativecalled out Digital Horizon—the China-linked investor in Pilot AI—saying it aimed to help guide U.S. technologies back to Beijing.
Digital Horizon, formerly called Danhua Capital, is backed by multiple Chinese investors, among them the investment arm of state-owned Zhongguancun Development Group.
Digital Horizon has been one of the most active Chinese-funded venture firms in Silicon Valley, raising roughly $500 million in capital and investing in scores of U.S. startups, alongside major U.S. venture firms. In 2015, at a time when American startups gladly took Chinese capital, Digital Horizon led a roughly $500,000 investment in Pilot AI, becoming its first institutional investor, according to research firm Pitchbook.
By the middle of last year, the mood had changed dramatically, with President Trump implementing tariffs on Chinese-made products and Congress moving to beef up Cfius's power to review more deals. With hopes of securing more government business, Palo Alto, Calif.,-based Pilot AI last summer decided it would be prudent for Digital Horizon to unload its stake. That was when Digital Horizon's chairman was asked to sell it back, according to the person familiar with the incident, who said the chairman, Shoucheng Zhang, was angered at what he felt was pressure to sell.
Shoucheng Zhang spoke at a technology conference in Beijing in July 2017. PHOTO: VCG/GETTY IMAGES
Dr. Zhang, who was also a physics professor at Stanford University, died on Dec. 1, in what the San Francisco medical examiner's office called an apparent suicide. It cited "an apparent note of intent" that referenced depression.
A spokesman for Digital Horizon said it had no knowledge of a request that the firm unload its stake in Pilot AI, which it still holds.
One Digital Horizon backer, the Beijing tech hub Zhongguancun, removed Chinese-language signs from its outpost in Santa Clara, Calif., and took down a Chinese flag out front.
Asked about the signage, Ella Li, head of investment in Santa Clara for Zhongguancun Capital, said it wanted to keep a low profile after a U.S. government report. The U.S. Trade Representative's November report described Zhongguancun, which is commonly known as ZGC, as a Chinese government-backed entity aiming to divert U.S. technology and talent.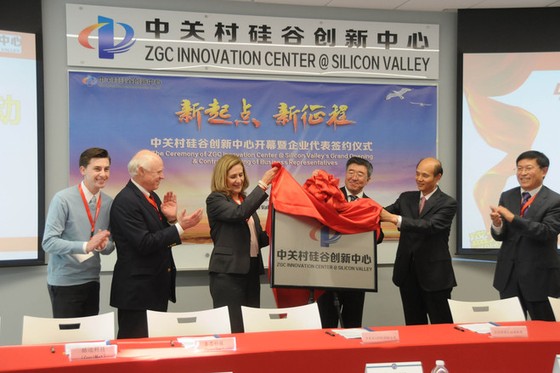 U.S. and Chinese officials attended the opening of the ZGC Innovation Center @ Silicon Valley in San Francisco in May 2016. PHOTO: MA DAN/XINHUA/ZUMA PRESS
A ZGC spokeswoman wrote in a statement: "We believe that there exist some gaps for business transactions across the Pacific, and we hope to bridge the gaps through our efforts in operating the incubator space in the Bay Area."
Another Beijing-based investor, Sinovation Ventures, has shut its office in Palo Alto and stopped investing from the U.S., said people familiar with the firm, whose chairman, Kai-Fu Lee, is a leading AI expert and former Google and Microsoft executive. Sinovation had made 46 investments in the U.S., according to its website.
A Sinovation spokeswoman said the firm is "re-evaluating its U.S. strategy" after key personnel departures led to reduced U.S. investments. Its change of investing plans was earlier reported by Vox.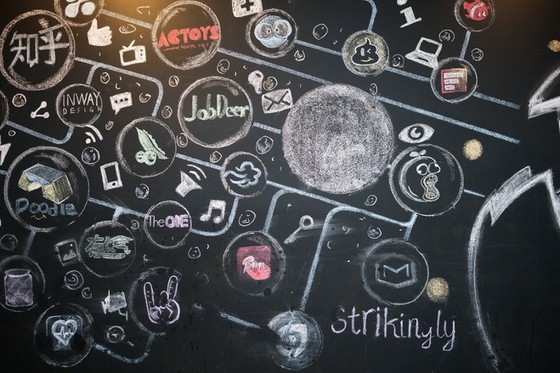 Sinovation Ventures displayed names of startups it has invested in on a chalk board at its Beijing headquarters in August 2017. PHOTO: GIULIA MARCHI/BLOOMBERG NEWS
David Cao, who helped build a networking and events business introducing Chinese investors to U.S. startups, has found the number of Chinese firms actively investing in U.S. startups significantly decreased. Few Chinese investors attended a conference Mr. Cao held in April. "It's harder to connect people," he said.
Making things harder is the point, say U.S. policy makers.
Since October, Democratic Sen. Mark Warner of Virginia and Republican colleagues on the Senate Intelligence Committee have been holding briefings for U.S. venture capitalists, tech executives, other business leaders and university administrators, urging them to take the threat of Chinese intellectual-property theft more seriously and to reduce dealings with their Chinese counterparts.
The meetings, featuring presentations from top officials of the Federal Bureau of Investigation, Department of Homeland Security and National Counterintelligence and Security Center, are closed to the public so classified material can be shared. Some attendees—people who have come to rely on China for business and funding—have pressed the government for hard evidence of the threat, according to U.S. officials familiar with the meetings.
Mr. Warner, a former venture capitalist, says he historically supported expanding economic ties with China. "But a few years and many, many classified briefings later, my views have changed, as the government in China has," Mr. Warner said in a written statement. "While many people in Washington understand the gravity of the threat, that's not true across the country."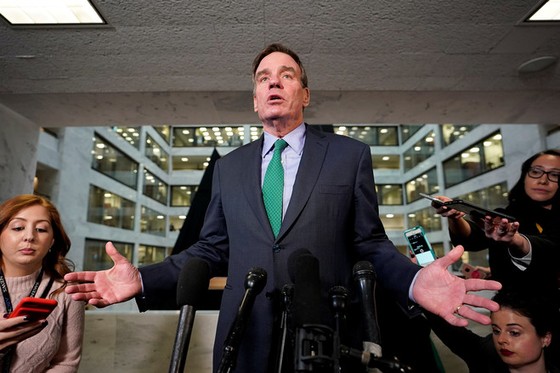 Democratic Sen. Mark Warner and GOP colleagues on the Senate Intelligence Committee have been privately urging executives to take more seriously the threat of Chinese intellectual-property theft. PHOTO: KEVIN LAMARQUE/REUTERS
The FBI has also beefed up efforts to warn companies about the threat of Chinese intellectual-property theft, building up a squad of about a dozen agents and analysts in its San Francisco office—more than other FBI offices have—to work with companies. It recently published a report titled "Protect Your Startup" with tips for avoiding intellectual-property theft.
The FBI office has conducted hundreds of briefings for companies on cybersecurity threats and economic espionage. It discourages people from using their regular smartphones and laptops when traveling in China and warns male U.S. executives to avoid "honeypot" espionage attempts by attractive women. "If you're not a 10 in the U.S., you're not a 10 in China," officials say they've told the executives.
One venture capitalist who received such a briefing said his firm is excluding its sole Chinese investor from future fundraising to avoid holding up any deals that could require approval from Cfius.
Baidu Ventures, a venture-capital firm mostly funded by the prominent Chinese search-engine company Baidu Inc., has altered the structure of some of its investments to avoid Cfius scrutiny, said Saman Farid, a partner at the firm.
When Baidu Ventures sees a company it likes, it sometimes recruits another investor to lead the deal and signs over its voting rights to that other investor, while not taking a board seat or asking to see company information, Mr. Farid said.
Chinese conglomerate Fosun International now is avoiding U.S. investments in sensitive industries because of a "less-friendly environment," said Mike Xu, managing director of its Fosun Capital unit.
The venture arm of Chinese e-commerce giant Alibaba Group Holding Ltd. is shifting to investments outside the U.S., according to two people familiar with its operations.
Alibaba was already taking care to avoid regulators' gaze. When it invested last summer in DeepMap Inc., a Palo Alto startup working on advanced mapping technology for self-driving cars, Alibaba bought around 7% of the company, a percentage that would have helped avoid a Cfius review of the deal.
After DeepMap raised a new funding round last summer, it disclosed some of its new investors, though not Alibaba, even though Alibaba had invested the most. A DeepMap spokeswoman said Alibaba had asked not to be cited.
An Alibaba spokesman declined to comment.
DeepMap co-founder and CEO James Wu said his company doesn't disclose some of its Chinese investors. "We don't want to make a big noise," he said.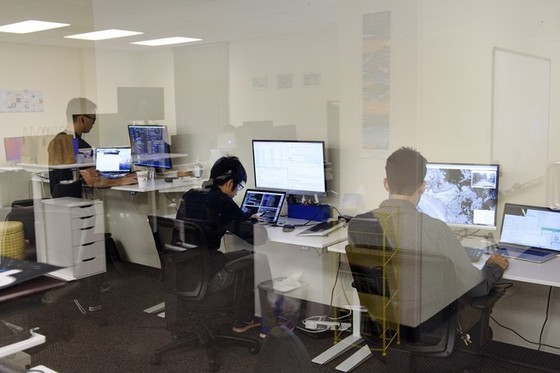 When U.S. startup DeepMap Inc. disclosed investors in a 2018 funding round it omitted the largest, China's Alibaba. A DeepMap spokeswoman said Alibaba didn't want to be cited. PHOTO: MICHAEL SHORT/BLOOMBERG NEWS
Part of the fall-off in Chinese investment is due to China's efforts to restrict capital outflows in order to protect the value of the yuan. Naval Ravikant, co-founder of the AngelList funding network, said Chinese investment firm CSC Venture Capital agreed in 2015 to invest $400 million in startups listed on AngelList and discussed raising the amount to $1 billion. It had invested only about $100 million before Chinese capital controls effectively ended the deal in 2017, said Mr. Ravikant.
Some Chinese investors and ethnically Chinese U.S. citizens say they are confused by the aggressive approach of the U.S. government, contending that making connections in other countries is often a way venture capitalists help startups.
A January 2018 report by a Defense Department unit warned that China's government could gain access to "the crown jewels of U.S. innovation" through investments in U.S. startups. The report listed seven "Chinese venture firms" without making specific accusations that any of them engaged in problematic diversion of U.S. technology.
Richard Lim, a managing director with GSR Ventures, said his firm wasn't contacted before its name was included in the report from the Defense Innovation Unit, or DIU. He said it was wrong to call his firm a Chinese fund because most of its capital comes from U.S.-based limited partners and less than 10% from Chinese investors.
The DIU report didn't mention some U.S. venture firms that have significant operations in China, notably Sequoia Capital. Neil Shen, who is the head of Sequoia's China operation—and one of the most prominent venture capitalists globally—is part of a body called the Chinese People's Political Consultative Conference that advises China's legislature.
A Sequoia spokeswoman declined to comment.
Another firm DIU listed, GGV Capital, protested its inclusion in a March letter to DIU reviewed by The Wall Street Journal. A spokeswoman said DIU hasn't replied to the letter from her firm, which has offices in Silicon Valley, China and Singapore. DIU didn't respond to a question about GGV's complaint.
Sinovation was also mentioned in the report and complained to DIU last June. A person familiar with the report said that after the complaint, DIU consulted with researchers that found additional ties between Sinovation and the Chinese government. This person said firms named in the report weren't contacted ahead of time.
Michael Brown, director of DIU and one of the report's authors, said it was written to raise awareness among U.S. government and industry officials about the extent of Chinese investments in early-stage firms "and how these investments fit into a long-running and broader technology transfer strategy that benefits from both legal and illegal means."