Recently, to resolve the capital shortage problem, some banks moved from selling shares to a sole strategic partner to selling shares to many financial foreign investors.

Basel II requires adding USD 20bn

At the beginning of 2019, Vietcombank successfully sold 111.1mn shares to GIC Private Limited and Mizuho bank for VND 6,200bn (USD 265mn). GIC bought 94.4mn shares, equivalent to 2.55% stake, while Mizuho bought 16.6mn shares to maintain its holding of 15% in Vietcombank.
By selling 3% stake, Vietcombank successfully added a significant amount to its capital, making it the biggest bank in Vietnam in terms of market capitalization. This is a typical example of the importance of foreign investment for raising capital in banks.
The investment of GIC and Mizuho helped to increase Vietcombank's chartered capital to VND 37,100bn (USD 1.6bn) and created a foundation for Vietcombank to qualify for Basel II standards. However, it is notable that the issue is just one third of total shares that Vietcombank intends to sell to foreign investors.
The banking sector is strongly under pressure for raising capital. The Fitch Rating Report in September 2018 found that Vietnam banks have to raise at least USD 20bn (9% of GDP) to meet Basel II requirements.

Over the last few years, banks have been applying many solutions to raise their capital, such as issuing long-term-deposit certificates to increase their tier 2 capital and no cash dividend payment to maintain the equity amounts. Banks usually issue bonus shares or split stocks by issuing new shares to current shareholders. Some other banks plan to increase their tier 2 capital by issuing long-term bonds.

However, the above solutions could not help banks solve their problems completely and the results were limited.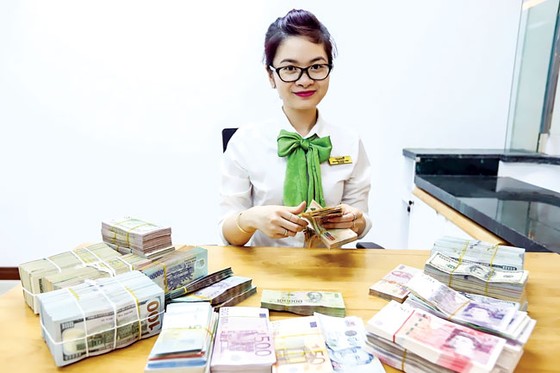 illustration
Capital raising strategy changes

Finding a strategic partner to sell the shares has become a priority for most banks as the Basel II deadline closes in. According to Moody's, many Vietnam banks are facing difficulties in meeting capital requirements of Basel II, which will be effective in 2020.
The capital raising in 2019 will be mainly dependent on foreign investors, given the low developed domestic capital market.

The divestments of foreign strategic partners in some banks recently have created some barriers for other banks to find a foreign strategic partner.

Since 2017, the success of HDBank in selling 21.5% shares to 76 foreign investors has changed the raising capital strategies of other banks. In spite of selling to sole strategic partners, banks are selling their shares to many foreign investors.

In 2018, VPbank sold its shares to 50 investors (including GIC, Deccan, Clermont, Dragon Capital) for IPO and stock listing. The foreign ownership at VPBank increased to 22.34% in 2018 from 0% (since OCBC divested).

TPBank was also successfully selling shares to 20 investors (including PYN Ellite, SBI Holding) to get VND 2,190bn in 2018.

This year, many banks plan to sell their shares to foreign investors and ignore mention of strategic partners. "SCB will increase its chartered capital by VND 3,000-5000bn by selling 500mn shares through private placements to its current shareholders with ownership above 0.5%," said Vo Tan Hoang Van, member of SCB's Board of Directors, at the bank's AGM.

OCB also plans to sell shares to foreign investors before listing on stock exchange in 2019.

VPB is seeking shareholders' approval to issue maximum 260mn new shares for VND 2,600bn. The specific number of shares will be calculated and informed later to make sure the foreign ownership does not exceed 30%.

The current cap of foreign ownership at banks shows some limitations in banks' ability in raising capital. The government has been discussing the issue to see if it eases this rule. However, most people expect that if there is a change, it would be applied only on weaker banks.

This year, to be well prepared for Basel II by 2020, many banks plan to sell shares to smaller individual investors to ease process of raising capital. Selling shares to foreign investors also increases chances for banks to receive support from many other investors.