Challenges for agriculture and aquaculture industries
Although rice price increased in Q2/2019, the agricultural production is expected to go down this quarter.
The hot weather in the South and unfavorable climate in the North are reasons for the drop in rice productivity in Q2/2019. The winter-spring rice crop in the North dropped 80kg per ha, in the South declined 30kg per ha, while in the Mekong Delta it fell exceptionally 110kg per ha, due to prolonged hot weather.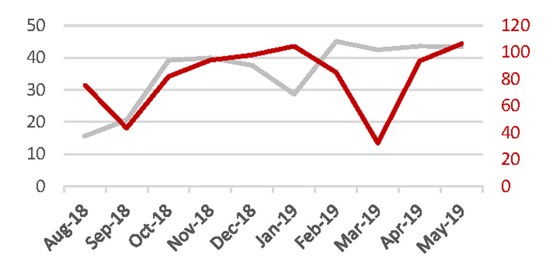 Petrochemical refining and metal production continue to be the main growth driver for manufacturing industry.
According to Climate Prediction Center of US, the El Nino factor, which has been happening since October 2018, is expected to last until July 2019.
The livestock breeding sector faces difficulties from African swine flu virus. This virus has been spreading to 53/63 provinces with the total infected pigs amounting to 2.3mn heads, causing a drop in pork price in most areas of the country.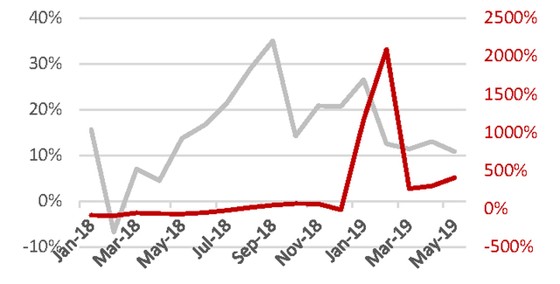 Growth of the automobile manufacturing sector slowed down due to a sharp increase in imported cars.
The live pig price in southeast fell to VND 32,000 per kg at the end of May, a drop of 40% YTD. The virus infection and the drop in selling price caused production to decline 5.5% YoY.

Export of seafood recorded its fourth consecutive drop in May, -1.4% YoY, while seafood exports to big markets like US and China have been slow, though pangasius farming area has been expanding gradually. These two factors caused a drop in selling price of pangasius, which fell to VND 21,000-23,000 per kg at the end of May, from VND 33.000 per kg in February.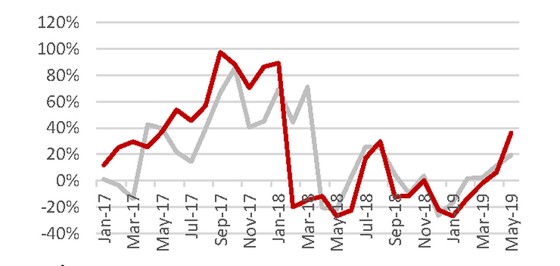 Import of phones and components increased sharply in May as a positive indicator for phone production.
Although black titer shrimp and white shrimp production increased 11.2% YoY and 12.9% YoY, respectively, shrimp exports still face huge challenges, especially fierce competition from peer countries like India, Thailand, Ecuador, and Indonesia. The high level of inventory in imported countries was also one of the reasons for the slowing of shrimp export in Q2/2019. The shrimp price dropped to its lowest in nine months to VND 90,000 per kg.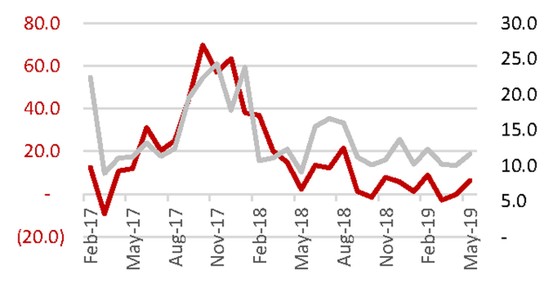 The flourishing electronics industry will play a huge role in promoting industrial growth in general.
Mobile phone exports encouraging
Mobile phone exports rose 19.5% YoY, the highest growth in nine months, given its low base last year (mobile phone exports fell 21.8% YoY in May 2018). Mobile phone production also climbed 15% YoY and the production index of electronic goods rose 6.5% YoY, after two months of negative growth.
The production and export of electronic products and mobile phones have still high potential. The import of mobile phone accessories surged 36.2% YoY. This should be a signal for better production in coming months. The lag time between accessories imports and mobile phones being exported is usually about 1 to 2 months.
Petroleum and steel production are still driving forces of industrial growth. The production of petroleum products in May reached 1.19mn tons, a rise of 80.8% YoY. Hence, the production index of petroleum products rose 106.5% YoY. Raw steel production achieved 2mn tons, a surge of 64.3% YoY. The production index of prefabricated metal products rose 43.4%. These products were mostly consumed in domestic market as the petroleum export fell 3% YoY and steel export growth decelerated to 7.7% YoY.
Imported products are being gradually replaced by local production. The petroleum import fell 38% YoY while steel import increased slightly by 0.7% YoY in May.
The automobile exports grew 10.8% YoY, the lowest in 13 months. Car production reached 29,800 units in May, an increase of 17.8% YoY. The total accumulated car production rose 17.1% YoY to 125,800 units in first five months. However, note that this production growth is lower than the growth of car imports.
Car imports in May reached 15,000 units, an 8-fold rise compared to same period last year. The accumulated number of imported cars amounted to 65,600 units, a surge of 800% YoY.
We should review the import policy and constrain the imports of cars and electronic products from other ASEAN countries such as Thailand, Indonesia, Malaysia. If we do this, we could achieve several targets at the same time, encourage domestic production and save foreign currency.
Textile and garment sector was also slow in recent months despite benefits from the trade war and free trade agreements. The growth of this sector stood at 10.8% YoY, same with previous month, but much lower than 23% growth in May 2018. The production index of textile and garment products, rose weak by 9.6% (vs 17% in May 2018).
The shoes and furniture production increased 14.3% YoY and 18.3% YoY, respectively. However, the contribution of these two sectors to exports is small. The export of shoes and furniture reached USD 7.1bn and 4bn while it was USD 12bn in textile and garment exports.
The pharmaceutical production rose 5.7% YoY in May and 1.4% YoY in first five months. The drop in domestic production was caused by the increase in pharmaceutical imports. The western medicine imports in first five months climbed 12.1% YoY (vs 5.4% of 5M/2018).

Slow growth in retail sales
There is a link between retail sales index and economic growth. The retail sales index fell to 8.6% in May, the lowest in nine months. This was same as May 2018 but opposite to May 2017 (highest in five months).
In 2017, Vietnam economic growth was only 5.1% in Q1 but then improved in next quarters and reached 6.81% growth for the whole year. In 2018, GDP growth in first quarter reached 7.38%, and fell to 7.08% at the end of the year. The fall in retail sales index in first five months is a sign of weak economic growth in 2019.
The number of international visitors to Vietnam reached 1.32mn in May, an increase of 14.3% YoY, the highest in seven months. Chinese visitors, after slowly increasing in previous months, rose in May to 13.4% YoY, the highest in seven months. Japanese visitors recorded a new high of 86,100 arrivals, a surge of 33.6% YoY. Reversely, tourists from Korea grew 18.8% YoY, lowest in last 28 months and from US only grew slightly 2.2% YoY (vs 18.8% in May 2018). The tourists from China, Korea and Japan are still key drivers for Vietnamese tourism.
Prioritize domestic resources
Based on the data of May and first five months, the economic growth in Q2/2019 is expected to be slow given the difficulties in agriculture, aquaculture and retail sales.
However, we see some good signs in mobile phone production. Although it lacks remarkable product launches, it is expected to benefit from the movement of enterprises from China and the barrier that US has imposed on Huawei of China.
To push up economic growth, besides cashing on international opportunities, Vietnam should also focus on domestic issues, such as fiscal policy. The public investment disbursement in first 4 months was just 16% of full year target, an increase of 5.4% YoY, while it was 19.2% of 2017. The target of public investment disbursement was set to grow 20% in 2019. The disbursement activities have been slow since 2018 and considered the reason for the decelerated growth of the economy.
The pressure on economic growth is increasing given the many unpredictable outside factors. Vietnam should prioritize on its domestic resources, especially resources in private sectors and public sector. The combination of these two sectors will form a solid growth foundation for the economy. Taking advantages of outside opportunities should be done in parallel with resolving internal issues. This is the only way to help Vietnam's economy grow sustainably.