Business information confidentiality not regulated

The Draft Revised Labor Law presented at the 7th session of the 14th National Assembly was of interest to both local and foreign companies. Besides suggestions to increase retirement age and limit of working hours, the issue of how to protect confidential business information also attracted the attention of FDI companies.

At the seminar for presenting the Draft Revised Labor Law organized by VCCI in Ha Noi, the American Chamber of Commerce (AmCham) was of the view that the government should specify and build a legal framework to protect information confidentiality of enterprises and create regulations to govern labor responsibilities in this matter after they retire or leave companies.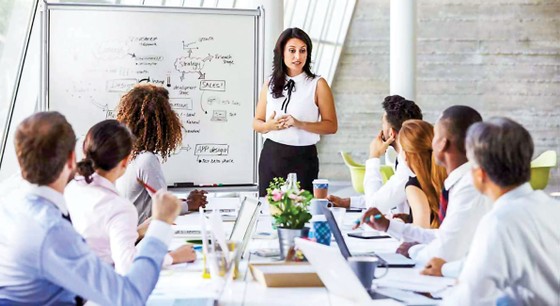 Illustrative photo.
They also were of the view that the 2012 Labor Law did not clearly state the non-compete agreement. Clause 2 in Article 23 only mentions one type of non-compete agreement. It does not cover clearly terms for competitor companies and legal responsibilities and rights of labor. Enterprises have remained confused about these issues.

Practically speaking, finding solutions to protect confidential business information after employees leave has become a headache for enterprises. Even in US and EU, they still don't have a straight-forward regulation on this problem as it is a big and complicated issue. The non-compete agreement is made between employer and employee. Usually, employees have to commit to not working for competitors, or not establishing another company in the same field for at least two years after leaving their current company.

However, because it is just an agreement between company and employee, and not regulated by law, most of the time when disputes arise or taken to court, these non-compete agreements are ineffective as there terms limit working rights of labor. The courts usually explain this issue as being too big and complicated. If the government legalizes it, the non-compete agreement will prohibit labor from working after leaving a company, but their lives will become more dependent on companies they previously worked in and non-compete agreement will violate working and living rights of workers.


Employer-employee agreement

Companies currently have some solutions to protect both their information confidentiality and labor rights. For example, a non-compete agreement between enterprises and labor is signed at the same time their work contract is signed. The agreement terms include responsibilities of both parties, benefits of employees if they commit to working for company, such as salary increase, perks and promotion, and the information confidentiality requirements of enterprises.

Some people say that Clause 2 in Article 23 currently violates labor rights. The commitment to not working for competitor is limiting labor to work and choose a suitable job and good company. These labor rights are mentioned in Clause 1 in Article 35 of 2013 Constitution.

Clause 6 in Article 9 of Employment Law also regulates several prohibiting acts, including act of "obstructing, creating barriers or damaging the legal rights and benefits of employees and employers". So the issue here is how to balance the benefits of both parties, protect business know-how and also protect working rights of labor. It is really not an easy problem to resolve.

At a discussion with SGGP Investment & Finance, lawyer Truong Thanh Duc, Chairman of BASICO, said that the government should clarify the definition of this issue first and standards to determine who the labor is that is directly related to business confidential information and know-how. This will help release labor from employers' bindings. The government should determine the time limit and area restricted for information confidentiality. It should list the circumstances in which the labor does not have to implement non-compete commitment.

There should be a term that requires companies to compensate employees monetarily if employees are prohibited to work for competitors for a certain period of time. It should be treated as compensation for keeping confidential companies' information and for being restricted to choose another good job.

The government should consider whether to allow labor transfer activities. Can enterprises negotiate and transfer labor if the labor agrees?
According to lawyer Truong Thanh Duc, many countries in the world still don't have a clear policy to protect confidential business information after an employee leaves a company. The most commonly used solution to this issue is a non-compete agreement between employer and employee.