E-wallet is considered an extended arm of banking that reaches out to even smaller consumers. If E-wallet is restricted, non-cash payment will be limited.
SGGP Investment & Finance had a discussion with Dr. Nguyen Tri Hieu, a banking expert, to further clarify this issue.

JOURNALIST: - The draft Circular on amendments and supplements to Circular 39/2014 requires E-wallet to have identifications and limits. What do you think about this?

Dr. NGUYEN TRI HIEU: - Firstly, identifying persons using E-wallet is necessary because they may use it for illegal purposes. Regulations on links between E-wallet and other bank accounts of the owner is important to prevent money-laundering and corrupt practices. These regulations will help protect the financial assets of an E-wallet owner. However, some constraints and limitations still exist.

Fintech should operate within a strict legal framework. Violations should be dealt with severe penalties, which will then help build a safer non-cash payment system.
Secondly, the amended circular requires that E-wallet set maximum limit of VND 20mn per day or VND 100mn per month if the owner is an individual, and VND 100mn per day or VND 500mn per month if user is an institution. This limit is too low and this should be doubled as the user may have higher demand.
I suggest a limit of VND 50mn per day or VND 200mn per month if owner is an individual and VND 200mn per day or VND 1bn per month if owner is an institution. We acknowledge that if the limit is raised, there will be much greater chance for illegal transactions. However, we should realize that if E-wallet is restricted there will also be other payment methods that can be used for illegal transactions, such as cash.

To conclude, the purpose of the draft Circular is to ensure safe E-wallet transactions. However, if Circular requirements of identification and limits is too rigid, it will discourage the usage of non-cash payments.

- We have been using E-wallet for ten years, why does the governments hang-on until now to ask for people's opinions and amendments? In your opinion, what safe legal framework do we need to develop E-wallet payment?

- Frankly speaking, the government learns and works at the same time. At the beginning, the government opened doors for it to operate, but later it realized that many money-laundering transactions were being done through E-wallet, that's why the government decided to tighten its grip.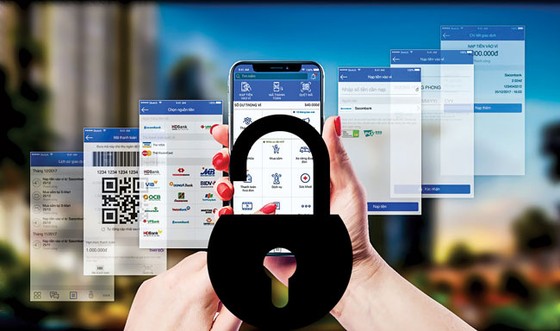 Illustrative photo.
It is understandable. Technology is moving very fast. The government cannot keep up with all the changes. It needs time to study and find suitable solutions. Currently, the support for intermediary payment activities is very limited. This tool is very new to Vietnam's market and the government needs time to observe, adjust and rectify.
However, the government should not first allow it, then later squeeze it. The government should create a legal framework to govern the whole non-cash payment system. Besides the requirements on the operation and usage of non-cash payment, the government should regulate strict penalties for irregular violations, especially illegal transactions and those responsible should be taken to court. Authorities should warn the public that such violations carried heavy penalties.

If violations in non-cash payments are settled amicably by authorities or let off with a small administrative fine, it will not help solve the problems, nor deter those who intend to use non-cash payments for illegal purposes.

- What do you think about recent growth of non-cash payment activities?

- E-wallet is just one non-cash payment method and it is not growing quickly. We have several companies issuing E-wallet and we also have many people willing to use it. But the E-wallet acceptance is still limited. It is hard to use E-wallet to buy gasoline, or to purchase groceries. This means, we have inputs but we don't have outputs, and that's why E-wallet has been growing slowly and is not a popular payment method in Vietnam.

Vietnamese consumers tend to buy promotion-linked products, but the E-wallet does not support this method.

To further promote non-cash payment methods, we also need to change consumer perception and behavior, encourage more institutions to accept non-cash payment tools like bank cards, E-wallet, and QR codes.

Using cash is the traditional practice of Vietnamese consumers as many institutions in our economy do not accept payment through banks. We need more organizations to accept the non-cash system. This will consequently encourage consumers to use non-cash means of payment.

A sizable proportion of urban people have been using non-cash payment methods, but they also have to carry a certain amount of cash in their pockets as they acknowledge that there are some places that do not accept non-cash payment.

- Thank you very much.