Therein lies a paradox in the current regulations on foreign ownership in Decree 60/2015/ND-CP, which governs the application of Securities Law. The opportunities are growing even as the government decides to revise or create new versions of the Investment Law, Enterprise Law and Securities Law. However, it is difficult to resolve the problem as we want to attract foreign investments but we don't want to lose control or don't want to let foreign investors manage companies here.

Open but many bottlnecks
According to Le Anh Tuan, Deputy Investment Director at Dragon Capital, foreign investors currently hold approximately USD 35bn out of USD 145 bn of total market capital. In this USD 35bn, foreign investors hold USD 7bn of Vingroup, USD 3bn of Vinamilk and Novaland, and USD 2bn in PV Power. The remaining 50% was allocated for other 750 companies with an average USD 10mn per company. This is a very small amount. Based on ownership limit, the remaining room for foreign investors is about USD 18bn.

Phan Duc Hieu, Deputy Director of CIEM said, "What we need now is a tool to ensure government management of foreign ownership in restricted sectors and create favorable conditions for enterprises to raise capital for business operations and expansions".
"Foreign investors find it difficult to invest in Vietnam as there are not many choices for them. This has led to distortion in stock value. The top 20 listed companies are trading at P/E 20 times versus 9.5 times of other remaining companies. Moreover, some leading companies are trading at very low valuation given their foreign ownership limit", said Le Anh Tuan.
Why are enterprises not willing to increase their foreign ownership limit? Ta Thanh Binh, Head of Market Development at State Securities Commission, said that Decree 60 was a big jump to ease foreign ownership limit constraints, however there have been only 50 companies willing to increase to 100%.
The enterprises are not interested much in increasing foreign ownership limit as when this ratio is above 51% the companies will be treated as foreign investors and limited in some business areas. Furthermore, the number of business sectors which are not allowed foreign investment is about 120, which is quite high. Moreover, companies which are operating in restricted sectors are allowed only 49% of foreign ownership. Hence, if enterprises are not constrained by this criteria, they will be limited in other requirements.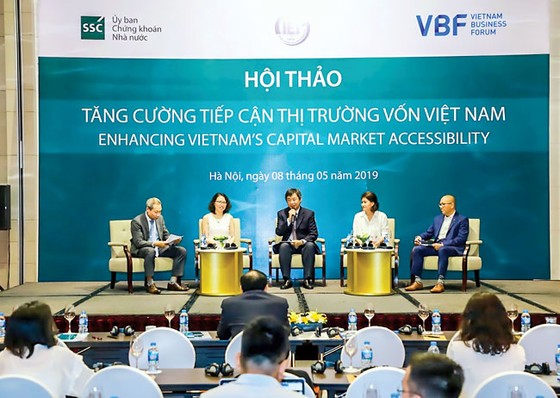 The views at an investment seminar. Photo: VIET CHUNG
Ta Thanh Binh said, "If we can review and shorten the list of restricted businesses, it will be a significant support for enterprises, and help them to list on the stock exchange and increase foreign ownership to 100%".
According to Phan Duc Hieu, Deputy Director of Central Institute for Economic Management (CIEM), it is necessary to review all regulations which currently govern the activities of foreign investments. However, it will take a long time and the result is also unknown. What we need right now is a tool to ensure government management on foreign ownership in restricted sectors and create favorable conditions for enterprises to raise capital for business operations and expansions.

NVDR – the magic wand

Non-Voting Depository Receipt (NVDR) is a special depository note issued by a third party (subsidiary of Stock Exchange). The issuer will transfer to investors the financial benefits that link company stocks. However, NVDR does not include voting rights.

Trinh Hoai Giang, Deputy CEO of Ho Chi Minh Securities Company (HSC) said that NVDR will not impact the Enterprise Law as it is not company stock. The foreign investors are not limited to buying NVDR while also receiving full financial and economic benefit. "We like to raise capital from foreign investors while controlling ownership limit of some foreign investors, but we should add up the NVDR to the number of stocks to calculate the limit. NVDR is the solution which has been coming for a long time. It helps to resolve the problem in the prevailing law".

According to Ta Thanh Binh, "NVDR is just a technical solution, used in case we do not have another effective solution. Hence, we should analysis and consider seriously before applying".

According to Nguyen Kien, Senior Lawyer at Dragon Capital, Vietnam can apply NVDR by allowing investors to have voting rights. However, we need to consider the voting mechanism as it relates to technical issues. Some experts say that as long as the limitation on foreign ownership remains, the other solutions to increase investments for foreign investors will not function effectively. We need an optimal solution and the important thing to note is whether the government will put in an effort in this issue.