The contest will be implemented nationally, and promises to bring a practical and professional playground for students to have real experience in global business.
Joining the contest will provide opportunities for students to showcase their ideas and business plans on cross-border E-commerce products and services, where the students will also have a chance to attend training courses on E-commerce, business planning and global brand building.
Big playground for real experience
According to Lai Viet Anh, Deputy Head of iDEA, this is a chance for Vietnamese students to introduce Vietnamese products, services and brands to foreign countries and the global market.
Ten groups with best ideas and plans will be selected and receive direct support from iDEA, Amazon Global Selling, T&T Group, Payoneer, HNC and other investors.
Bernard Tay, CEO of Amazon Global Selling in ASEAN, said that besides supporting mid-and-small enterprises in Vietnam, the company also wants to improve the quality of these companies, especially young companies. Through the contest, Amazon not only wants to build the E-commerce background for students but also be the middle player to connect businesses on Amazon with potential young students.
To actualize ideas, students will receive support from iDEA, Amazon Global Selling and T&T Group in training of sales skills, supplying basic knowledge about E-commerce, sharing experiences related to cross-border E-commerce, consultation in developing a business plan and building of a global brand.
Improve quality of labor in E-commerce sector
Vietnam's E-commerce market is one of the six strongest growth markets in the world with total value of USD 8bn in 2018. However, cross-border E-commerce in Vietnamese enterprises is still limited. This sector lacks skills and a professional labor force with knowledge of online shopping, logistics and international trade.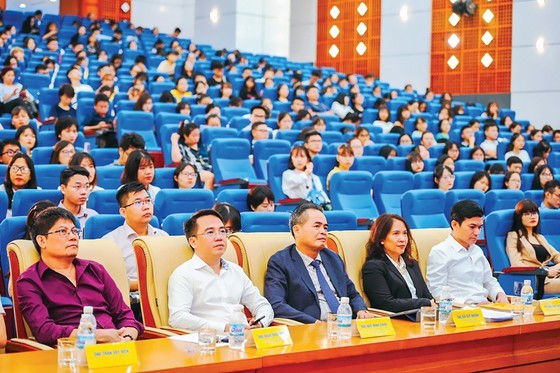 Organization board launched the contest.
With deeper understanding and solid experience in E-commerce, Amazon Global Selling and T&T Group is promising to create opportunities for students to experience ownership of a business on Amazon. "We need more cooperation from enterprises to create significant influence of E-commerce and export in Vietnam", said Nguyen Ky Minh, CEO of E-commerce Development Center.
According to Tran Kim Oanh, Head of International Trade and Investment Department at T&T Group, with the support of Amazon, the leading company in global E-commerce with 300mn client accounts, the contest is expected to not only bring students real experiences in global E-commerce but also inspire and direct Vietnamese students in developing cross-border business ideas.
For details of contest please visit cbe.ecomviet.vn

Từ khoá :