Once most successful company
AGF was established on 20 November 1995, based on Decision 964/QDND of People's Committee of An Giang Province. Within five years AGF was considered the most successful business in the province, and one of the leading seafood companies in Vietnam.
In 2000, AGF was the No.1 catfish export company, contributing 40% of total market share. In 2006, AGF achieved VND 1,000bn in revenue and VND 50bn in profits. At that time, these numbers were very impressive.
AGF was not only a profitable company, but also a leading company in proactively applying high operating standards such as HACCP, CoC, BRC, ISO 17025:2005, ISO 14001:2004. AFG also received international certifications like ASC, BAP for high quality material and efficient processing plant.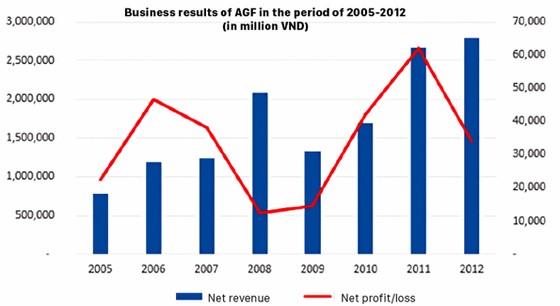 Products of AGF were accepted for export to the EU market under four product codes DL07, DL08, DL09, DL360. AGF was also certified to export to Muslim countries.

In the domestic market, pangasius products of AGF were on the list of top quality products of Vietnam for twelve consecutive years, from 2003 to 2015. AGF was also the only company to get the "National Brand" prize in 2008.
AGF was known as a leading company in farming as well as research and development activities, contributing significantly to the expansion of related materials and farming area. The growth of AGF opened many opportunities for local farmers to get rich. For these reasons, AGF was once the pride of An Giang residents.
In 2003, the People's Committee of An Giang Province constructed the basa fish monument in Chau Doc, to honor people who made the ordinary catfish popular all over the world and play an important role in the economic activities in the Mekong Delta Region.

Target of M&A activities

The outstanding growth of AGF makes it a target for acquisitions.
In the past, many seafood companies as well as investment funds wanted to own shares of AGF but were not successful.

However, in 2008, AGF profits suddenly tumbled to VND 12bn, a drop of 67% YoY. This was a good opportunity for Hung Vung Group (HVG) to acquire the company. HVG did a public offering with target to recover the leading seafood export company. In January 2010, HVG increased its stake in AGF to 51%.
After acquisition by HVG, AGF has shown some good signs. Revenue increased from VND 1,780bn in 2010 to VND 2,762bn in 2011, and VND 2,811bn in 2012. In 2011, AGF was voted by VASEP as one of the top three pangasius export companies.

However, since 2013, the operations of AGF have continually faced many difficulties. AGF ranking fell to seventh position with total export value of VND 112.7mn. In 2014 AGF ranked 14th in seafood exports as the company exports dropped 25% YoY. This year, while PAN Group sold all its shares in AGF (20.53%), HVG continued to increase its holdings to 79.58%.

Notably, the more HVG acquired in AGF, the bigger drop the company incurred. HVG also faced financial difficulties as a result of the interest burden from M&A activities. In 2015, AGF booked its first loss in history. Later, in 2018, the company recorded the highest loss of VND 178bn.

The accumulated loss by the end of 2018 was VND 270bn vs chartered capital of VND 281bn. The situation became harder when banks tightened their lending activities to AGF because of its financial situation. This led to shortage of operating capital, farm feeds, and production of materials.

SCIC divestment

According to many industry experts, the tumble faced by AGF was mainly caused by ineffective strategy of HVG. Currently, SCIC owns 8.24% of AGF (2.31mn shares) but the influence of SCIC on AGF operations is very small.

In the past SCIC had plans to divest from AGF but were not successful. In October 2016, SCIC announced to sell all AGF shares through public auction at initial price of VND 28,100 per share. However, at that time, the market price was only VND 10,000 per share, hence, divestment fell through.

According to Dr. Dinh The Hien, the plan to divest by SCIC has created market worry about operations at AGF. SCIC should see through all potential and advantages of its holding companies. SCIC should see AGF difficulties as part of the market cycle and a normal occurrence of business circumstances.

Should SCIC buy more shares of AGF to restructure the company rather than divest from it? Practically speaking, the current difficulties of AGF are also barriers for other seafood companies, while the potential in this sector is huge, only if we know how to exploit it.

AGF started as a joint stock company in 2001 and was listed in HOSE in 2002. Stock had reached VND 46,000 per share. However, now AGF is trading around VND 3,000 per share after consecutive losses.