SGGP Investment & Finance presents some excerpts of Nguyen Thien Nhan's analysis on the many advantages that Ho Chi Minh City could offer investors.

Besides a favorable investment environment, enterprises also need a large enough consumer population which will later use their products and services. This already is an advantageous factor in Ho Chi Minh City for serious investors.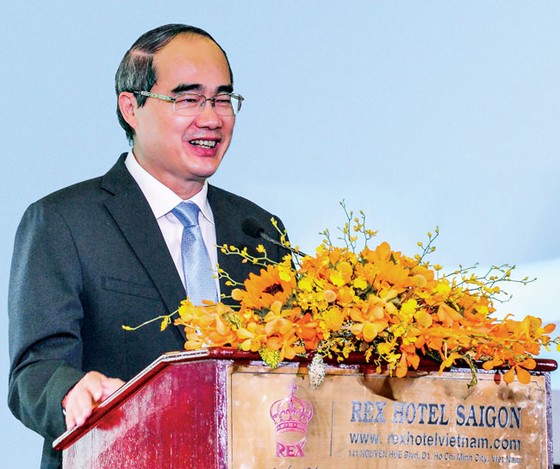 Mr. Nguyen Thien Nhan, Secretary, Central Party Committee of Ho Chi Minh City, gave a speech at the Investment Conference held last week in Ho Chi Minh City. Photo: VIET DUNG
Huge purchasing power

Ho Chi Minh City population is around 9.5mn people with current GDP per capita of USD 6,000, which is 2.5 times higher than the country's average. The GDP per capita is expected to reach USD 7,000 by 2020. This means that the income of 9.5mn people in Ho Chi Minh City is equal to the income of 23mn Vietnamese people. This is a huge number of buyers. Hence, if products of enterprises are good quality they will sell to a large number of willing customers or in case of product surplus, Ho Chi Minh City can even export them.
Ho Chi Minh City will simultaneously implement many projects such as six routes of the metro, a ring road and a high way. If the transportation constraints are not resolved, economic growth will be impacted. The population density of Ho Chi Minh City is six times higher than the country's average. The GDP per sq. km is 14 times the country's average. Vehicular traffic and product transportation is very high, hence any bottlenecks in transportation will consequently lead to congestion and slow economic growth.
Within a radius of 100km from Ho Chi Minh City Center, there are other 8 provinces which make up the key national economic zone in the South. These 8 provinces have population of 20mn people, and GDP per capita 2.1 times higher than the country's average. The income of these people is equivalent to the income of about 42mn Vietnamese people. This is another advantage of Ho Chi Minh City.
If we assume that about 20% of these 8 provinces' population are middle class, having average income of USD 10,000 per year, we will have 4mn of high-income people. This is the potential clientele for enterprises that are considering investing in Ho Chi Minh City for consumer products and services.

Abundant labor resources

The first benefit for enterprises investing in Ho Chi Minh City as well as Vietnam is cheaper and abundant labor force. Vietnam's work force is around 54mn people, equivalent to 55% of the country's population which is 97mn people. Furthermore, over the last 14 years Vietnam has successfully been able to maintain the ratio of two babies per family. Note that in other countries, this ratio can only be maintained for three years.

Three years ago, the Political Bureau issued a resolution on methods to build a sustainable growth in population, create a good living environment to encourage people to continue delivering two babies per household in next sixteen years, so as to meet a plan for a golden population structure. By 2030, Vietnam's population is estimated to reach 103mn people with approximately 58mn in the labor force.

Labor cost in Vietnam is cheaper than in other countries. Ho Chi Minh City currently has 59 universities and colleges with about 600,000 students. Every year about 150,000 students graduate from these universities. Ho Chi Minh City also has 535 science and technology research units. This is also another benefit for investors.

However, though Ho Chi Minh really wants to build some national and regional level projects, it is a pity that the City is running out of land. Hence, the City is finding ways to incorporate people who own land with investors, to complete some projects. We need big land banks in the inner City areas to develop.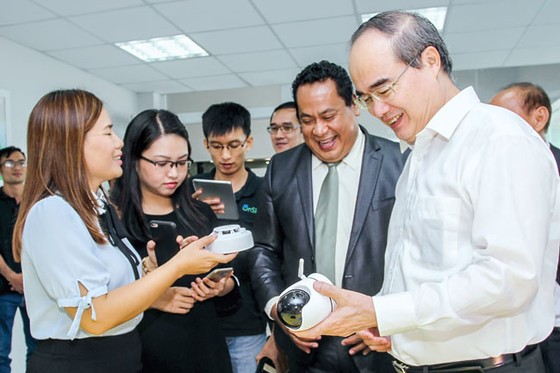 Mr. Nguyen Thien Nhan, Secretary, Central Party Committee of Ho Chi Minh City, visited the enterperises in Saigon Hi-Tech Park. Photo: HOANG HUNG
Smart digital city

Ho Chi Minh City is building a strategy to develop into a modern digital smart city with a vibrant economy. The hope is that whenever people talk about Ho Chi Minh City they will immediately think of a modern digital smart city with happy residents.
Ho Chi Minh City plans to build more high-tech industrial zones to meet with increasing investor demand. This year, construction will begin at one 600ha industrial zone with target for completion by 2020.
To achieve this objective, Ho Chi Minh City has to provide the best infrastructure at the earliest and apply 5G telecommunication technology by next year. Accordingly, Ho Chi Minh City has to lead in digitalizing all City resources to meet the demand of both investors and residents and thereby also improve productivity.
Currently, Ho Chi Minh plans to construct a highly creative city hub in the east of downtown area. The current plan has begun by choosing a consultor for this project. There are six foreign and one domestic consultor already lined up for consideration in the first round. The City targets to retain one or two of the best and most suitable consultors.

By the beginning of 2020, Ho Chi Minh City is scheduled to present a master plan to develop this smart city hub in the east. The area covers 22,000ha and will serve one million people. It will be the biggest area in Vietnam in terms of university community, with 12 universities, 70,000 students and 5,000 lecturers. Ho Chi Minh City plans to make this area as the most sophisticated high-tech zone in Vietnam, and a move has already been made to study and incorporate Artificial Intelligence (AI) in all systems as well.

In all its endeavors to develop into a smart digitalized society, Ho Chi Minh City will not forget basic needs of its people, their need for a better environment and quality of life, hence a study is ongoing on how to grow more trees appropriate for the location and weather conditions, and also plans for more nature parks to make it a green city.